Marine Thread: The "Glue" That Holds it All Together
Marine thread is the glue of boat canvas. Be sure you know the basics. After fabric, it is the most important component of your boat canvas.
Many boaters believe that marine thread should last forever. After all, it's outdoor thread, right? Well, there actually is one type of outdoor thread that does last forever. It's thread, made with PTFE or Polytetrafluoroethylene, which is really Teflon®. This type of thread can be exposed to sun, salt, chemicals, pollution, it doesn't matter. It will last and last.
Gortex is associated with the brand name Tenara®, the first PTFE thread of its kind to hit the market. In the beginning, it was a flat fiber that most sewing machines could not accommodate. Over the years, they modified their process and came out with a twist thread that could be used with most sewing machines. Colors include, black, white and clear.
The reason you don't see PTFE threads being used in all marine canvas shops is the price. At $160.00 per 1-pound spool, it's simply not offered by all fabricators. Besides Tenara's gortex, Solarfix®, also gortex has made a big competitive splash in the market.
Thanks to PTFE thread, canvas boat covers can finally be made with the quality they deserve. PTFE is the only marine thread that will literally outlast your canvas.
So what about the rest of the outdoor threads on the market?
Polyester or polyester dacron is the most common marine thread you will find in canvas shops. They are UV resistant and some are anti-wick which means that as the thread gets wet it expands in the needle hole helping to keep the water from seeping through. These threads are considered chemical and heat resistant, but eventually weaken in the sun.
Two common sizes used on boats are 92 and 138. Having used both, I can speak from experience and say without a doubt that 138 will outlast 92. So if you have a choice, go with the heavier thread.
Some marine thread brand names used on boat covers include the following:
Sunguard
Sunstop
Star Ultra Dee
Aqualon
Dabond
All of the above come in many colors and now Solarfix PTFE has just brought multiple colors onto the market. For the DIY stitcher ready to sew your own project, you can buy the small size 92 in 4oz spools. Your home sewing machine should be able to sew with 92, but very unlikely that you can sew with the 138.
The next size down from size 92, is 69 and your home sewing machine will definitely be able to sew with it, but it won't hold up in the sun. In the south, you would be lucky to get a year out of size 69. If you use this size, plan on frequent restitching.
Polyester Marine Thread
We are proud to offer lifetime Solarfix Thread - Although we can't guarantee this marine thread will sew on your home sewing machine, it does sew nicely on my early model Kenmore and our industrial machines.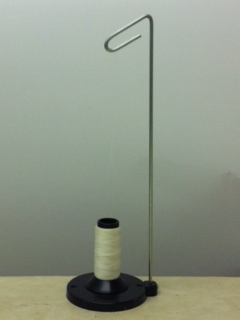 Thread Cone Holder for Marine Thread
Buy Marine Thread Here
Prices
Black UV 92 4 oz. $18.99
White UV 92 4 oz. $16.99
Solarfix White or Black 1oz. Approx. 280 yards 23.00
Thread cone holder 9.99
Lastly, I will mention what NOT to use as a marine thread!
Nylon thread. Nylon is a bad choice for outdoor thread. Be careful when you have your custom cover made. Be sure to ask what type of thread they will be using. We restitch plenty of covers that have been sewn with nylon. This happens frequently with auto trim shops and home furniture upholstery shops. Sometimes they just don't know any better. For more on canvas boat cover repair check out our web page all about boat cover repair.

To sum up this discussion on marine thread: If you can have your cover stitched in Tenara (Gortex thread) or Solarfix thread, do it. You won't be sorry!
Be Sure to Check Out EZ-Xtend Boat Zippers!
EZ-Xtend Boat Zippers
EZ-Xtend Boat Track
EZ-Xtend Drip Shields