Presenting EZ-Xtend Boat Zippers

An Innovative Marine Zipper That Provides Solutions to Frustrating Boat Cover Repair Problems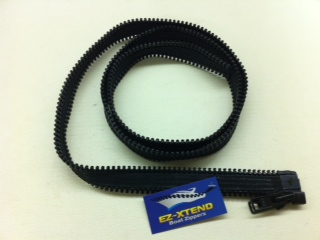 Click to view prices and order now!
Have a question? Use the form at the bottom of the page to get an answer.
4 Ways EZ-Xtend Boat Zippers Can Help Solve Your Boat Cover Repair Problems
Adding length to boat enclosures shrunken from both age and cold, allowing for easy snapping.
Adding width to boat enclosures that won't zip together due to shrinkage, securing your boat from the elements.
Providing an emergency solution to a failed zipper until a proper repair can be made.
Broken zipper teeth can keep your zipper from a secure seal. EZ-Xtend zippers can provide temporary help by giving fresh teeth for a secure zip.
See Patent Pending EZ-Xtend Boat Zippers in action on the Sea Ray photos below.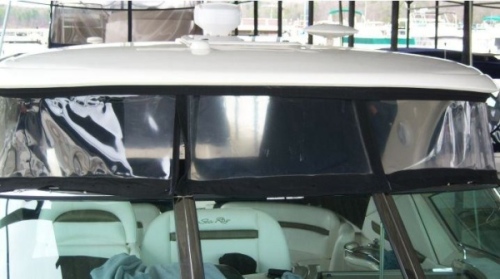 A Sea Ray boat cover before using our zippers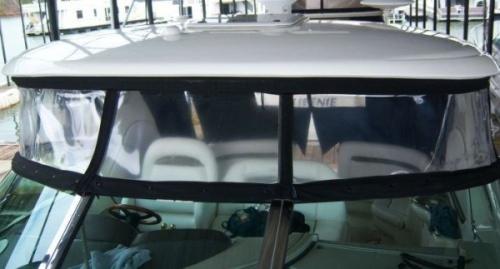 A Sea Ray boat cover after using our zippers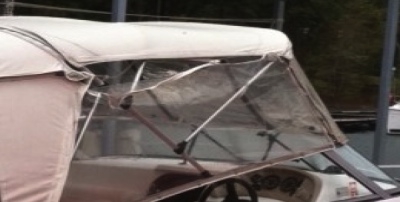 Blown out boat zippers are a common boat cover repair problem
How many of you have the situation shown below?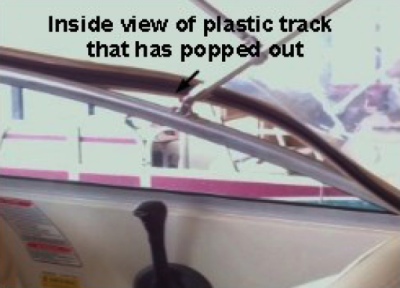 ---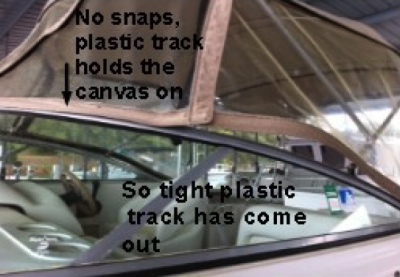 Traditionally, you'd be looking for a custom boat cover repair company to fix this problem for you, and facing an extensive bill.
Not any more...
Breath New Life Into That Old Boat Enclosure!
Here's how they work ... The zippers are one-piece marine zipper units with the zipper teeth on the outside edge.
When zipped in between the zipper on a bimini top and enclosure, they act as a spacer zipper, adding 7/8" in length or width. This allows your enclosure panels to snap easily again.
This exciting new zipper is sure to make your boating life easier and save you money.
Click to view prices and order now!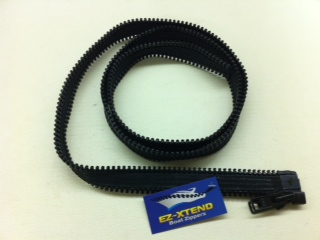 It's really simple. Just unzip a boat enclosure panel from its zipper and set it aside.
Take an EZ-Xtend zipper and zip it on to the Bimini top zipper. Then take the panel and zip it back onto the bottom of the EZ-Xtend zipper.
Now you have an EZ-Xtend zipped between the bimini top and the clear vinyl panel. Cut your EZ-Xtend Zipper to length and attach the stainless steel zipper stop. You have just added 7/8" to the overall length of your panel and now you can snap it back to its original snaps comfortably.
Should You Replace Your Existing Zippers or Use EZ-Xtend Zippers?
Run your fingers across the zipper teeth. If the teeth feel crumbly and your finger comes away chalky, it is definitely time to replace. If your teeth have eroded and look small and are without definition, replace the zipper.

If the zipper has broken or missing retaining box or pin, replace the zipper.

EZ-Xtend Boat Zippers can be a helpful repair when your old zippers are still in good condition, so it is important that you take the time to evaluate the old zippers.
Important- EZ-Xtend boat zippers do not decrease the likelihood of zipper failure. They are designed to correct fit and provide other repair assistance.
Sizes
EZ-Xtend Boat Zippers come in Sizes #8 and #10 (see What size marine zipper do you have on your boat?). They're available in black and white, either 60" or 96" long.
Buy EZ-Xtend Zippers Now
Here's the prices for EZ-Xtend Boat Zippers:
Size
Length
Price
#8
36"
16.59
#8
60"
17.84
#8
96"
19.59
#10
36"
16.99
#10
60"
18.24
#10
96"
19.99
What size marine zipper do you have on your boat?
The majority of marine zippers come in two sizes: #8 and #10.
Many boats have #8 zippers on their boat canvas that came with the boat from the manufacturer.
Most custom canvas jobs come with #10 zippers. You'll need to know what size yours is before you order any EZ-Xtend Zipper product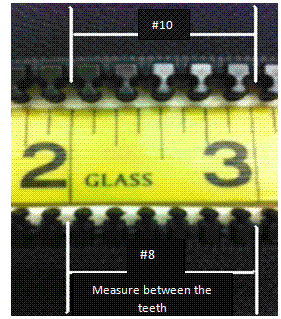 Follow the method above to figure out what size zipper you have
IMPORTANT: Please measure accurately before ordering!
Please don't guess, #8 and #10 look very similar.
Lay out your zipper on a long, straight, flat area, and ensure there are no puckers or curves.
Measure how many teeth you have per inch.
#8 boat zippers have six teeth per inch.
#10 boat zippers have five teeth per inch.
Still Unsure? Use 2" instead of 1" for counting teeth.      Example: A #8 zipper would have 12 teeth per 2 inches and a #10 would have 10 teeth per 2 inches.  Notice, every time you add an inch to your measurement the tooth count between the two sizes of zipper becomes more noticeable. 
Counting your teeth per inch will give you the right information when ordering. 
Here are a couple of photos of EZ-Xtend Boat Zippers working with old zippers.
| | |
| --- | --- |
| Separated aged zipper teeth in need of a repair.  Be sure to evaluate the damage to your zipper teeth | Same zipper with EZ-Xtend Boat Zipper in place, creating a strong bond again |
| | |
| --- | --- |
| Demonstration of black EZ-Xtend Boat Zipper zipped between broken tooth white zipper | |
Buy EZ-Xtend Zippers Now
Here's the prices for EZ-Xtend Boat Zippers:
Size
Length
Price
#8
36"
16.59
#8
60"
17.84
#8
96"
19.59
#10
36"
16.99
#10
60"
18.24
#10
96"
19.99
Make EZ-Xtend Boat Zippers part of your boat's essential equipment
Here are a few other ways they can help. Stay zippers on sailboat bimini tops regularly fail. Insert an EZ-Xtend Zippers to make a quick temporary repair.
Zippered pockets on bimini tops eventually fail. Insert an EZ-Xtend Boat Zipper and keep your bimini top more securely fastened to the frame until you can make a permanent repair.
Ease the strain on boat enclosure panels zipped to bimini tops BEFORE the zippers fail. This will prolong the life of your zippers, and prevent expensive repair bills.
Zip two enclosure panels together again where the zippers no longer reach to each other. This makes your enclosure secure against wind and weather.
Use EZ-Align Boat Zipper in places where two halves of a zipper are out of alignment to each other. This eases the strain of trying to zip together unaligned zippers.
Important Notes About Our Products
Your boat cover zippers must be the type which separate completely to use this product.
EZ-Xtend zippers are YKK-compatible and Lenzip-compatible. They are not compatible with RiRi zippers.
YKK is a registered trademark of YKK
Lenzip is a registered trademark of Lenzip
Riri is a registered trademark of Riri
Do You Have a Question You Would Like to Ask About EZ-Xtend Boat Zippers or Marine Zippers?
We'd like to help you find a solution! You just might be able to help someone else trying to solve the same problem. If your question just requires a yes or no answer, please ask it from our contact us page.
What Questions Have Other Visitors Asked?
Click below to see contributions from other visitors to this page...

can your zipper be shortened
I have a gap between zippers on the boat top canvas and the zippers on the isenglass side panels on a searay sundancer. The zipper are approximately 30 …
How do I sew a zipper in an arch or semi circle?
I'm not sure if I need to cut the zipper different lengths! I'm not sure which side to sew in first! Should I sew the inner part first or the outer part. …
How hard is it to cut your EZ-Xtend zippers and add the stop for it?
I have a SeaRay with Camper top canvas. The canvas is 2002 and the panels doesn't fit at the sides. Your product looks like it would give me the extra …
How do you attach the "Stop" step by step? I guess each zipper comes with 1 handle so you are supposed to cut it to length then throw away the excess, is that correct?
General questions about the product. Hi Randy, Yes,that is the idea. Just cut the EZ-Xtend Zipper to length on your boat, after zipping it into place. …
Is the picture above determining whether I have a # 8 or # 10 zipper demonstrating a # 8? It could be either depending on where you start to measure. Thanks.
Have a couple of broken teeth and cover is too tight on my 2009 310 Searay No photo came through. Start counting in between the teeth. Full teeth inside …
where do I get the zipper stop from?
I have to cut your ex-xtend zippers to length...where do I get the zipper stops from? They will come with it, along with instructions on how to do. …
I lost the slider on one panel. Can I get a replacement
zipper slider/pulls are a part of a zipper that can be replaced. They come in metal, plastic and they also come in #10 stainless steel for those who want …
Does the ykk 10v mean that I should order size 10?
Does the ykk 10v mean that I should order size 10? Hi Rob, Yes ykk 10v stands for vislon. Vislon is the the plastic that ykk makes the teeth out of. …
Does anyone in New Zealand stock your zippers?
finding a stockist in New Zealand Here is a list of phone numbers for YKK New Zealand. They will tell you directly who the distributors are for marine …
can i order a 20 inch zipper ? how much cost?
jon.vancleave217@zoomtown.com Hi John, No I don't carry 20" marine zippers. However, it is very easy to cut down a zipper to the right size. Just …
I need an 18 inch ez -extend #8
Recently purchased ez-xtend boat zipper works great I now would like to get an 18 inch #8 ez-xtend boat zipper. Hi Marvinsax, Glad to hear of your …
There are 16 teeth per inch on this cover.
I am trying to replace the zipper for a cover to the awning on the boat. There are 16 teech per inch. Will the #8 or #10 work, or neither. thanks …
When I order a quantity of one EZ-Extend zipper is it a pair of them or is it just one?
Aft isinglass panels tough to zipper to arch on both port and starboard side. The EZ-Xtend zipper is a single unit, sold one at a time. They have …
when i order zippers, do I get both sides
I have one side but am missing the other Good Question, yes you get both sides!
Zipper lenghts
My front zippers consists of 2 separate 38" zippers. Can I get by with just 36" zippers now that you have them or am I better off getting the 60" and cutting …
The Zipper pull has popped off do I need to get it fixed before I can use the EZxtend
Pontoon Boat Cover is So tight that I popped off the Zipper Pull Trying to zip it. How does the EZx tend attach? Will I need to get the puller fixed first? …
Century 2200 CC 2006
The zipper on my Century 2200 2006 CC is broken. It curves at two corners. Can I replace/repair it with the EZ-Xtend zipper? Hi William, I am going …
If I do one zipper along the top looks like I have to go all the way around and do all the panels so the zippers on the sides would match up , correct ?
Shrunkin canvas.... You can use just one, but you would then need a pair of Align-a-zips on either side of the panel you lowered. Once the panel is …
Zipper repair?
I have a 1985 Grady White Sailfish. The isinglass panel on the helm side is torn along the seam. I tried to remove the whole section, but one of the …