Presenting EZ-Xtend Boat Zippers



The New Marine Zipper Invention That Adds One Inch to Your Shrinking Boat Canvas and Relaxes the Fit Instantly!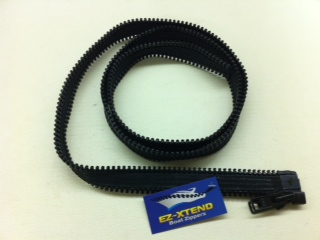 Click to view prices and order now
Have a question that might benefit others, use the "ask a question" form at the bottom of this page?  Please send along email address.
4 Ways EZ-Xtend Boat Zippers Can Help Solve Your Boat Cover Repair Problems
Adding length to boat enclosures shrunken from both age and cold, allowing for easy snapping.
Adding width to boat enclosures that won't zip together due to shrinkage, securing your boat from the elements.
Providing an emergency solution to a failed zipper until a proper repair can be made.
Broken zipper teeth can keep your zipper from a secure seal. EZ-Xtend zippers can provide temporary help by giving fresh teeth for a secure zip.
See Patent Pending EZ-Xtend Boat Zippers in action on the Sea Ray photos below.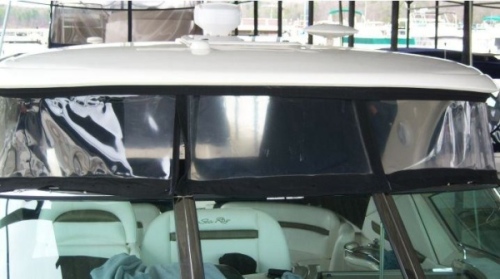 A Sea Ray boat cover before using our zippers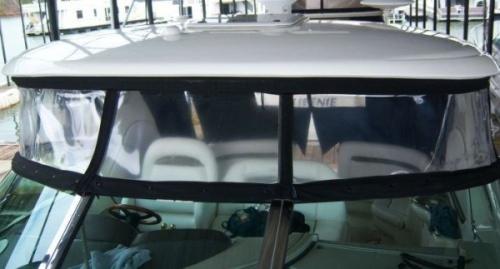 A Sea Ray boat cover after using our zippers
---
See what Gary, a Sea Ray Boat owner has to say about EZ-Xtend Boat Zippers!
---
This exciting new zipper is sure to make your boating life easier and save you money.
Click to view prices and order now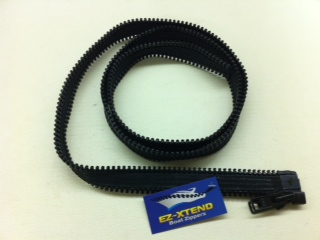 ---
Evaluate Your Old Zippers!
Run your fingers across the zipper teeth. If the teeth feel crumbly and your finger comes away chalky, it is definitely time to replace. If your teeth have eroded and look small and are without definition, replace the zipper.

If the zipper has broken or missing retaining box or pin, replace the zipper.

EZ-Xtend Boat Zippers can be a helpful repair when your old zippers are still in good condition, so it is important that you take the time to evaluate the old zippers.
Important- EZ-Xtend boat zippers do not decrease the likelihood of zipper failure. They are designed to correct fit and provide other repair assistance.
---
What size marine zipper do you have on your boat?
The majority of marine zippers come in two sizes: #8 and #10.
Many boats have #8 zippers on their boat canvas that came with the boat from the manufacturer.
Most custom canvas jobs come with #10 zippers. You'll need to know what size yours is before you order any EZ-Xtend Zipper product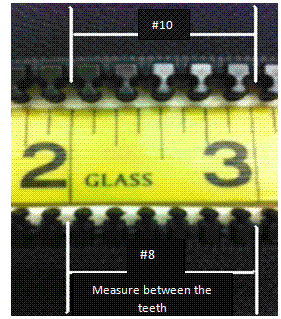 Follow the method above to figure out what size zipper you have
IMPORTANT: Please measure accurately before ordering!
Please don't guess, #8 and #10 look very similar.
Lay out your zipper on a long, straight, flat area, and ensure there are no puckers or curves.
Measure how many teeth you have per inch.
#8 boat zippers have six teeth per inch.
#10 boat zippers have five teeth per inch.
Unsure? Use 2" instead of 1" for counting teeth.      Example: A #8 zipper would have 12 teeth per 2 inches and a #10 would have 10 teeth per 2 inches.  Notice, every time you add an inch to your measurement the tooth count between the two sizes of zipper becomes more noticeable. 
Still Unsure?  Order a mini sample, by using contact us form.
---
PLEASE READ Before Ordering!
Evaluate your old zippers for strength and integrity (see instructions above).
They are compatible with YKK and Lenzip, but not RiRi.
Know what size zipper you need before ordering (see instructions above) If unsure, order a sample using our contact us page.  
They are cut to length on your boat.
These zippers are only usable on completely separating zippers. They can not be used if one end of your zipper is sewn shut.
You will receive installation instruction.

Buy EZ-Xtend Zippers Now


Size            Length              Price
#8              33"               17.50
#8              57"               18.25
#8              93"               21.00
#10            33"               17.50
#10            57"               18.25
#10            93"               21.00
---
Here are a couple of photos of EZ-Xtend Boat Zippers working with old zippers.
| | |
| --- | --- |
| Separated aged zipper teeth in need of a repair.  Be sure to evaluate the damage to your zipper teeth | Same zipper with EZ-Xtend Boat Zipper in place, creating a strong bond again |
| | |
| --- | --- |
| Demonstration of black EZ-Xtend Boat Zipper zipped between broken tooth white zipper | |
---
YKK is a registered trademark of YKK
Lenzip is a registered trademark of Lenzip
Riri is a registered trademark of Riri
---
Do You Have a Question You Would Like to Ask About EZ-Xtend Boat Zippers or Marine Zippers?
We'd like to help you find a solution! You just might be able to help someone else trying to solve the same problem. If your question just requires a yes or no answer, please ask it from our contact us page.
What Questions Have Other Visitors Asked?
Click below to see contributions from other visitors to this page...

Be Sure to Check Out EZ-Xtend Boat Zippers!
EZ-Xtend Boat Zippers
EZ-Align Boat Zipper
EZ-Xtend Boat Track
EZ-Xtend Drip Shields
Copyright (c)2011-2014 Canvas Boat Cover and Repair Advisor. All rights reserved.