EZ-Xtend Boat Track
Repair 
Shrunken Vinyl Enclosures

EZ-Xtend Boat Track solves the universal nuisance of shrinking clear vinyl boat enclosures. As vinyl ages, or gets cold, it shrinks. This can make vinyl boat covers a real pain to operate.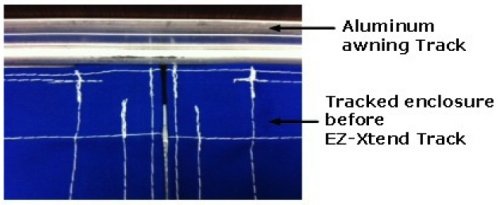 You might even see this happen during a single day. You already know how frustrating vinyl shrinkage can be if you've ever taken down or rolled up your panels on a warm day only to find that you are unable to snap the panels back later. Even if it is warm outside when you take them down, temperatures can become colder in the evening and cause this to occur.  

---
How Does EZ-Xtend Boat Track Work?
---
EZ-Xtend to the rescue!

Designed especially for track-to-track enclosures, houseboat enclosures, or any other clear vinyl panels that are tracked to a permanent surface.
EZ-Xtend Boat Track provides a spacer that

 sits between your existing permanent track and the welt that is sewn into your enclosure panels.
It's also very affordable at just 75c per inch.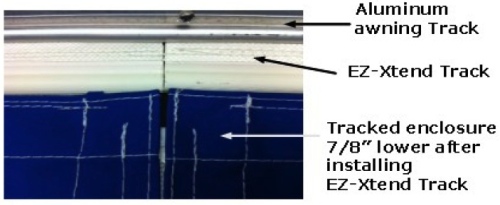 ---
How To Measure For Your Track
---
EZ-Xtend Track is a custom-sewn product and is not cut-to-fit like EZ-Xtend Boat Zippers. This is important to know before ordering your track, because you must indicate the exact length you will require. If you do cut an EZ-Xtend Track, the thread will unravel.
How to measure for your EZ-Xtend Track:
Example: You determine that need 189" of continuous track for your front enclosure.
For the port and starboard sections, you will need 78" for each side. Each section has to be measured separately because boat track is unable to take a sharp corner or a tight radius, but it is flexible enough to take sweeping curves.
With these track lengths in mind, you will need:
Front enclosure 189" = Three 48" pieces plus one 45" piece.
Port enclosure 78" = one 48" piece plus one 30" piece.
Starboard 78" = one 48" piece plus one 30" piece.
Total = five 48", one 45" piece plus two 30" pieces.
345" @ .75 = 258.75
Slide your new EZ-Xtend Track in, piece after piece, to give you a gap-free appearance.  Once you have done this, then slide your enclosure back in.
You should now be able to snap your enclosure back easily.
Since EZ-Xtend Boat Track is a custom product, please feel free to contact me to discuss your situation.
---
EZ-Xtend Boat Track is for sale through special order only.
Click Here to Contact us and we can discuss your needs.
---
As a companion to EZ-Xtend Track, we offer EZ-Xtend Drip Shields. These can be used between panels to block airflow and keep any water from trickling in once your EZ-Xtend Track has been installed.
---
Please come visit me at Cover Girl Marine Canvas & Upholstery to see some of our awesome work!