T-Top Boat Covers &
 Unique Installation Challenges


Highlights on T-Top Boat Covers:

T-top Cover Options

Attachment Options

DIY Repairs

Materials 

Decisions on T-Top Cover
---
If you have found this page, you are probably thinking of having


a new boat cover made or are looking to purchase one online. 
---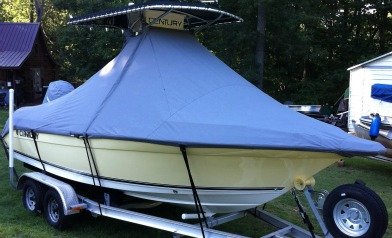 Custom made by
Cover Girl Marine Canvas & Upholstery
Buford, GA

---
T-Top Boat Cover Options
---
So lets explore your options . . . .

1. You can locate a custom marine canvas shop in your area.

We have always felt that custom boat covers are the way to go if your budget will allow, but having a custom made t-top cover can be very expensive. These covers are challenging and require skill to make a sharp looking, well fitting boat cover that will be able to withstand the rigors of towing and the test of time.
2. You can buy from an online marine cover manufacturer.
Your choices are limited online because it's difficult to make universal covers to fit the wide variety of shapes and styles that are needed. Some of these universal covers may not fit as well as you might like.
---
Common Attachment Options
---
Attaching to the T-top can be done in three ways . . . 

1. Webbing Straps – Usually 1" webbing straps with quick release buckles strategically placed on the cover for attaching to the tubing structure of the boats T-top.
This attachment style can be found in both custom and online T-top covers and they work well when the straps are placed correctly.
2. Snaps – Directional fasteners (snaps that only snap on and off in one direction) are good for high wind and stress. Custom canvas shops often use snaps and sometimes a combination of both snaps and straps.
You wouldn't find snap attachment options available online, because the seller wouldn't expect you to install the snaps on the boat yourself.
3. Boat Track – This is the same track used on the sides of RVs to attach the shade awning to the vehicle. The boat track would be either aluminum or PVC and would screw or rivet in strategic places to the underside of the T-top.
This is a favorite installation method used by custom canvas shops for attaching T-top covers. This installation method is favored for its strength. Sliding the welt that is sewn on the canvas into the boat track is a quick and easy way to install T-top covers.
The Most Common Way . . .
The most common way is with a draw string or webbing sewn into the hem.

We build ours with either rope or webbing in the hem depending on the boat and needs of the owner.

When we use rope we like to add rope ratchets.

These handy little ratchets make cinching the cover so easy.

They can often be added to existing draw string covers as a retro-fit to make life easier.
Rope Ratchet

*Note:  To retro-fit a draw string cover with a rope ratchet you will need about 8" of open space for the ratchet since the ratchet will not fit inside of the drawstring hem.
The same goes for webbing sewn inside the hem. When webbing is used, you can't do without a ratchet. It would be next to impossible to pull the webbing tight enough without a ratchet.




Pro-grip ® Ratchet


Trademark of Ace Hardware

*Note:  Webbing ratchets can be drawn tighter than rope ratchets.
How to tie down to the trailer . . .

This can be done with rope or quick release webbing straps. We prefer webbing straps for securing the cover to the trailer. You can see these tie downs in the first T-top boat cover photo above.
---
Thinking of doing Your own repairs?
---
Are you considering doing your own T-top cover repair?  Then you should definitely visit our very informative boat cover repair page. We provide some very helpful advice on how to go about this. Also, for your convenience, here are some of the items you will need in order to make your own repairs: 
Quick Release Boat Cover Strap

---
What About Boat Fabric & Other Materials?
---
We do have our favorites, and we have built a very special boat cover materials page just to help you with these decisions. Please visit our page and let us know if you have any questions.


---
Decisions, Decisions!
---
If you decide to have a custom T-top boat cover built, you will need our helpful tips for choosing a custom canvas shop. Check out our custom boat cover page.
If you decide to buy online, we have a great option for you!  T-top Boat Covers gives you a very well made cover that is also affordable.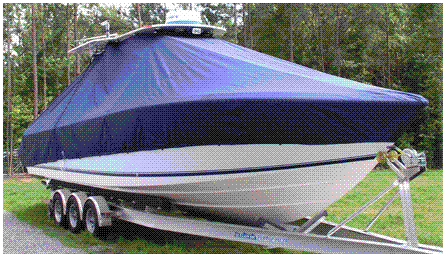 Photo Courtesy of T-Top Boat Covers

We first learned of this company when one of their covers came in for a zipper modification. The boat owner wanted to add another entry point in the cover. I was so impressed with their covers that I called them to let them know how impressed I was, and now I am passing this on to you.
What makes T-Top Boat Covers unique?
Antiwick Dabond 138# thread
Weathermax 80 boat fabric with a 5 year warranty
T-Top Boat Covers come in Black and Blue. Other colors may be available.
It just doesn't get any better than this unless you find a really high quality custom canvas shop in your neighborhood (not as easy as you might think) and have a boat cover made to your exact specifications.
We hope you have found this information helpful! Follow the link below to view T-Top Boat Covers.  These fine folks also have many more great products for you to check out. 
You can contact T-TOP Boat Covers directly at: 

If you still have questions, please ask!
---
Be Sure to Check Out All of Our EZ-Xtend Boat Zipper Products!!
EZ-Xtend Boat Zippers
EZ-Xtend Boat Track
EZ-Xtend Drip Shields
---
Please come visit me at Cover Girl Marine Canvas & Upholstery to see some of our awesome work!