Ordering A Custom Boat Cover?
14 Tips To "Make Sure" You Get The Best!

Having a custom boat cover built can be confusing. Canvas fabricators have varying degrees of experience and skill level. It's important to have a basic working knowledge of custom boat covers when you walk into a shop for the first time. Doing this will gain you a cover built to your specifications and needs instead of one built based on the fabricator's preferences.
My mission is to help you make good decisions about boat cover construction and material options so you can evaluate the information your receiving. It doesn't matter if it's a winter boat cover, trailerable boat cover, or any other type of marine boat cover, because talent or lack of it can effect your results.
With basic knowledge of what you are buying, you can visit your local canvas shop and ask questions. If you don't like the answers you hear, you can then leave and locate another fabricator who will build the cover the way you want it.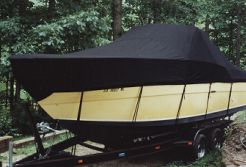 Photo Courtesy of Cover Girl Marine Canvas & Upholstery
Buford, Ga
---
Below is a list of questions to ask along with answers you might expect to hear from a high quality custom canvas shop. Of course, everyone builds boat covers differently so don't expect to have everything on your wish list. Also, don't expect the fabricator you are interviewing to use a specific product just because you ask them to. They all use different products which they buy in bulk. The Q&A should help you evaluate the work styles and help you get a feel for who you are dealing with.

---
MAKE SURE Questions
For the best custom boat cover
---
1. What kind of thread will they be using?

2. How will they reinforce the custom boat cover where the snaps are located?

3. Do they reinforce wear points? If so, which ones?

4. How long is their craftsmanship warranty? How long is the warranty on the fabric?

5. Will they bed the snaps going into the boat? If so, how?

6. Will they use marine binding on the edges of the custom boat cover? If so, what kind?

7. How do they finish and reinforce cutouts in their covers? An example would be where the bimini top legs are located.

8. What brand, size, and type of zipper sliders do they use in any marine zippers that are being installed in the cover?

9. Will they fix or replace any of the snaps in your boat?

10. Can you see any of their previous custom made boat covers and speak to their customers?

11. Do they vent their covers?

12. How will they attach travel covers to the trailer?

13. What types of clear vinyl do they recommend?

14. Will they clean up after themselves?
---
MAKE SURE Answers 
For the best custom boat cover
---
1. Make sure the marine thread you will be getting is polyester or a poly-dacron blend. Size 138 is better than size 92. Do not accept nylon or cotton. You may also find a shop that offers one of the PTFE threads such as Tenara or Solarfix. They cost more, but they will never rot. Lifetime thread is well worth the price considering the ugly appearance of rotten threads and the additional cost of a restitch. Not all fabricators offer this type of thread due to the high cost.

2. Make sure the edges of your boat cover are reinforced where the snaps will be installed. An excellent option would be a second layer of fabric on the edge of the underneath side with another layer of similar material slipped inside (three total layers). This provides extra reinforcement for the snaps. This way of finishing is preferable over polypropylene webbing as a reinforcement. Very few webbing's are stable, and they will usually shrink and degrade quicker than the fabric does. Having no reinforcement at all is not an option!

3. Make sure your fabricator reinforces the inside of the custom boat cover where the boat lays against areas that may wear on your fabric. These are areas such as cleats, windshields, gas caps, etc.

4. Make sure you get the longest warranty on craftsmanship you can find. Make sure they will stand behind their custom boat covers. You also need to make sure the fabric you pick carries an excellent warranty (5 years or longer). You don't want to have your fabric rot in 3 years. Saving a few bucks on less expensive fabric just isn't worth it in the long run.

5. Make sure snaps are bedded with exterior grade caulk or specialty washers when installed on your boat. This is very important. It will keep water from seeping in behind the snaps and damaging your boat.

6. Make sure that, if they use binding to bind the edges of the boat cover, they use Sunbrella binding or one of the bindings made of a material that carries at least a 5 year warranty. Vinyl binding will crack and rot before the fabric does.

7. Make sure any cutouts in your cover (such as where cleats are located) are reinforced properly and rain flaps cover the cutouts. This will give the boat cover a more water tight fit and a professional, finished appearance. A boot around the cutout is a nice addition as well. It will keep rain from running down the custom boat cover and dumping into the cutout.

8. Make sure that if zippers are used, they are size #10 YKK, Lenzip or #8 Riri. Do not accept smaller sizes. Ask for metal zipper sliders, and replace them once a year in salt water climates. Stainless steel zipper sliders are available as a special order item. Metal zipper sliders are stronger than plastic zipper sliders. Buy extra metal sliders, and replace them yearly as mentioned before. Marine zippers can be troublesome as they age, be sure to read about our EZ-Xtend Boat Zippers for solutions to some of these future frustrations.

9. Request that broken snaps be fixed including all the snaps pulled out of the boat hull. Visibly aged or sticky snaps should be replaced. Be sure to read our page about boat cover snaps for a better understanding of boat cover snap options.

10. Ask if you can see a similar, completed, custom boat cover, and maybe get a referral or two. Be diligent about seeing their work.

11. Do they use vents in their covers? Venting any kind of cover is a good idea, even if you have breathable Sunbrella. Sunbrella still sweats on the underneath side of the material. Vents help the heat escape quicker. This reduces condensation. Boat Vent 3 is a great choice to have as a companion to your adjustable tent pole. Sew-on style vents work as well.

12. Attaching covers to trailers is done by rope, bungee, or webbing straps. Rope is fine, but it can be a pain. Bungee is also fine, but it needs replacing frequently and can put someones eye out. Webbing straps with adjustable quick release buckles are really nice and easy for you to use. They are especially nice when the straps can be completely removed from the cover. When you do it this way, you can number them and put them back on after you get the cover in place. Taking them completely off the cover keeps them from snagging on the boat during removal.

13. Clear Vinyl comes in roll products, and sheet products. Make sure they show you both products and explain the differences. Roll products are inferior to sheet products. They both have varying price points, and they both have advantages and disadvantages. A thorough discussion would be in order.

14. The answer is yes! Just asking the question will assure that they do clean up after themselves.
---
Final Tips about custom boat covers . . .

     Your warning alarms should be sounding if:
---
Build A DIY Boat Cover
---
     Are you thinking of building your own boat cover? 
     Here is a list of the items you will need:
---
| | |
| --- | --- |
| 92 Polyester Marine Thread 8 oz Available in Black or White | 138 Polyester Marine Thread 1 lb Available in Black or White |
| | |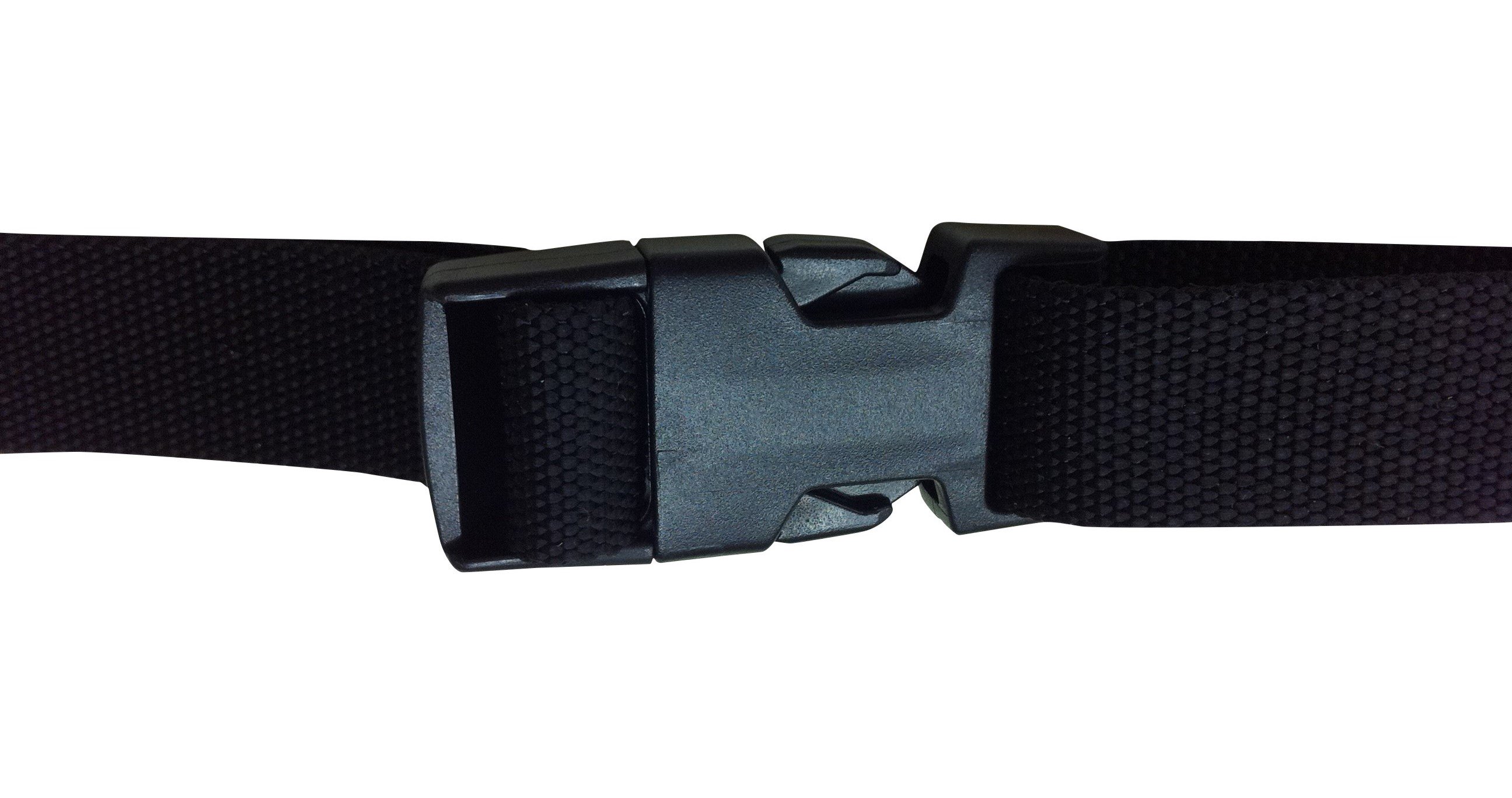 Quick Release Tie Down Strap

---
Sunbrella is a trademark of Sunbrella
Tenara is a trademark of W.L. Gore & Associates
Solarfix is a trademark of Synthetic Fiber Thread and Yarn
RiRi is a trademark of RiRi SA
Lenzip is a trademark Lenzip MFG Corp.
---
Please come visit me at Cover Girl Marine Canvas & Upholstery to see some of our awesome work!