A Boat Bow Cover Protects Your Investment. Here is What You Need To Know Before Buying One
Are you thinking of buying a boat bow cover online or having one built for you at a custom canvas shop?  Or maybe building one yourself!
I can help narrow down your choices . . .
As you search online you'll find out there is very few bow covers available online.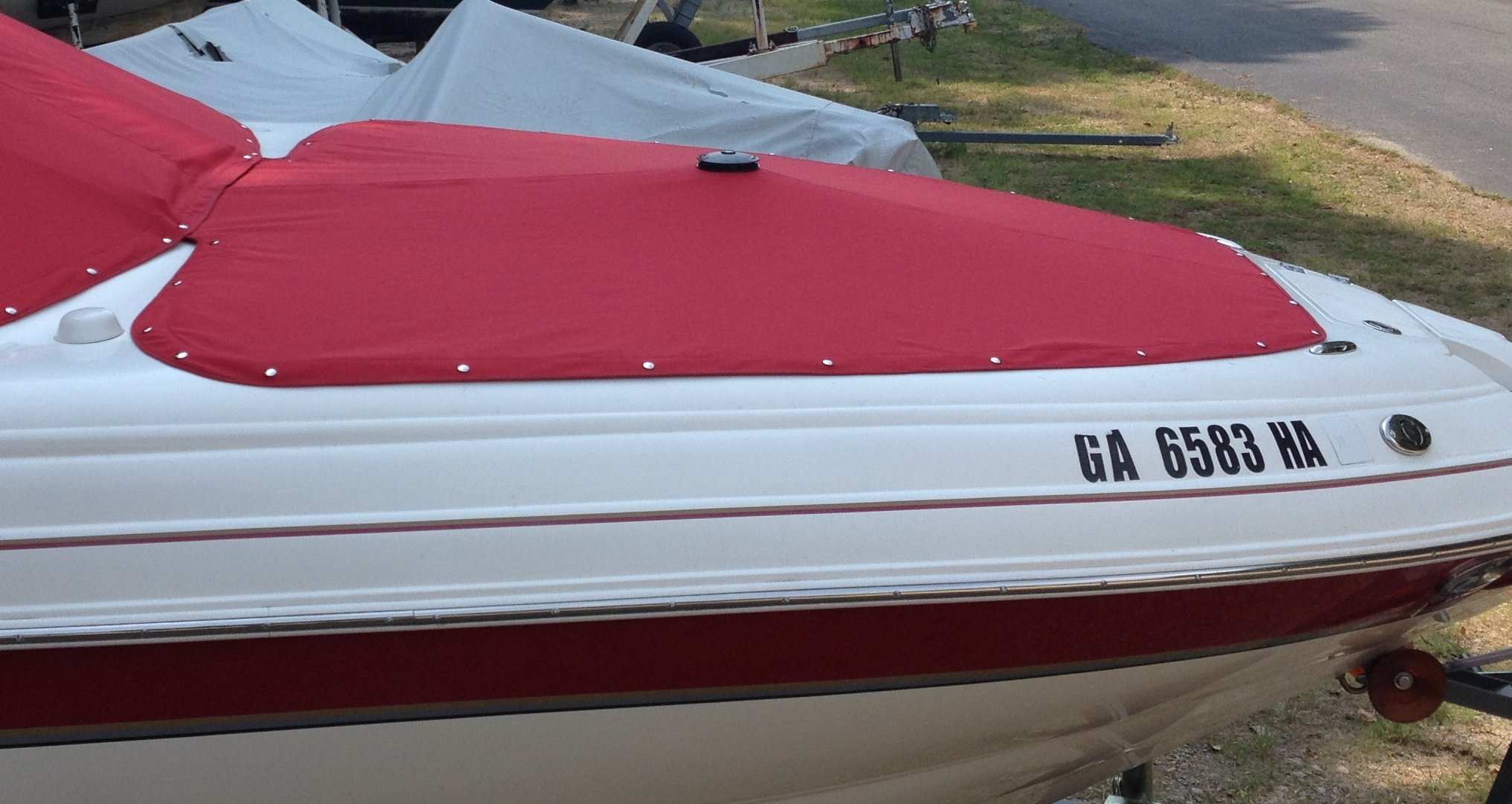 The reason why? It is hard to make one that fits many styles of boats well. Unlike the universal boat cover that utilizes a drawstring, you just can't do that with a bow cover since it has to snap on.
If you able to find a boat bow cover from one of the bigger boat canvas manufacturers online, I'll explain what you can expect. You can also check out our custom boat cover tip page for decision making questions to ask a custom canvas shop.
With online sellers you can usually get one in Sunbrella®, which is a plus. It's primarily how it is finished out that holds the difference. If you look at the inside edge of these boat bow covers where the snaps are installed you will see a reinforcement of 1" black webbing.
So you think great, it's reinforced!
Here is a few problems you may run into with the 1" webbing used as reinforcement.
If the webbing is polypropylene, it will degrade fairly quickly, even underneath the cover. When polypropylene ages it disintegrates and black bits of synthetic fiber get all over your boat. The worn out webbing can be replaced at a custom shop, but it will probably cost as much as the cover did.

Webbing shrinkage, as the webbing ages it becomes harder to snap even if you are lucky enough to have gotten nylon webbing instead of polypropylene
If you already have snaps in your boat it may be very difficult for your new cover to reach the old snaps, requiring new boat snaps be added in odd places. You may have to hire someone to install it anyway, eating up your money savings from buying online.
The last mention will be the tent pole that lifts the cover up to properly shed water. Usually the online companies provide a grommet hole where you are expected to insert the tip of the adjustable tent pole and push up. These frequently tear.

If that happens buy a Boat Vent 3 and install it in your boat bow cover.

For more information about a the Boat Vent II, see our page boat cover repair. With the Boat Vent II you'll also receive the added bonus of air circulation.

Installing a store bought bow cover can be done by someone with a medium skill level and a basic knowledge of tools and boat construction.

If you do choose to install it yourself

Visit our store for:

You can probably see where this is leading!

Yes, you are probably going to be happier in the long run with a quality custom bow cover. Notice the bold around quality?

Build a DIY Bow Cover

Are you thinking of building your own boat cover? Here is a list of the items you will need.

See the link below and get 14 Tips to "make sure" you are getting the highest quality boat bow cover you can?

By checking out our custom boat cover tip page as a resource and "make sure" you get the quality you are looking for.

Happy Boating!

---

Be Sure to check out our EZ-Xtend Boat Zippers products

EZ-Xtend Boat Zippers
EZ-Xtend Boat Track
EZ-Xtend Drip Shields