Marine Zippers Giving you Trouble?
We Have Your Solution! 

Highlights on Marine Zippers:
---
| | |
| --- | --- |
| | Ask a question? Need an answer? Find it here! |
---
Manufacturers & Warranties
---
In the U.S. there are three big zipper brands that are used on boat cover applications. In order of popularity:

YKK- UV resistant zippers (most common), but have no warranty.
Lenzip - UV resistant zippers that are the only zippers offering a lifetime warranty. They are also YKK compatible.
Riri - UV resistant zippers with a five-year warranty. Riri zipper is not YKK compatible. Riri marine zippers are no longer available in the U.S.  We do still have a few sliders left in stock.
Marine zippers have been a source of frustration to boat owners for a long time. They begin to break down after continued exposure to the sun's UV rays becoming chalky and brittle. They eventually lose their teeth, or the teeth begin pulling apart. Another big complaint is the zipper sliders break or fall off.
Are there different sizes? Yes there are, and it's important to know which size you have and which size you need to request when you are having custom boat covers built for you.
The most common sizes of marine zippers used in the industry are #5, #8, and #10.
In my shop we use YKK #10 and Lenzip #10.   Lenzip now carries a #12 separating zipper that will be very useful for those who want to go the extra mile in heavy duty zippers.
I keep #8 YKK Marine zippers for replacements on factory manufactured boat canvas. This is because many boat canvas manufacturers use them. If I had a choice, I would never use a #8 marine zipper.  My thinking is why go smaller when bigger is available. 
I hope this information will help you in choosing your zipper. Boat zippers are an essential part of extending the life of your canvas, so it's always a good idea to know your options. 
---
do I Have #8 or #10 Marine zippers?
Have a look at the video below and learn how to identify your zipper size by the zipper pull.  You will also need to know the size for zipper pull replacement when the time comes.  
---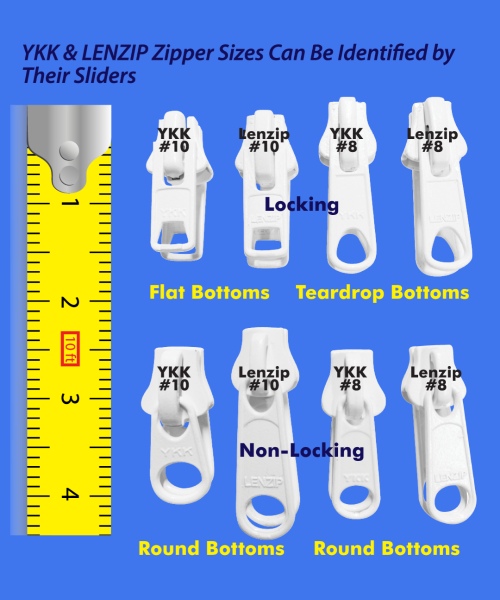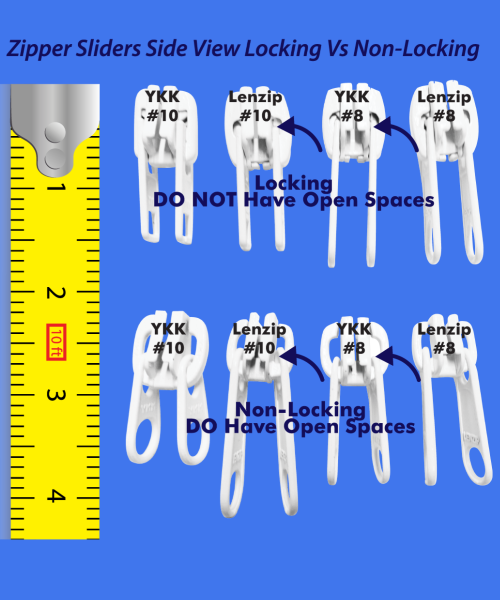 ---
Marine Zipper Terminology
---
Here is a picture of a separating marine zipper with proper terminology starting with #2
Separating means that the zipper unzips and the two sides completely separate from one another

2. The #10 Separating Marine Zipper
3. Insert Pin
4. Retaining Box
5. Box Pin
6. Teeth Elements
7. Zipper Tape
8. Zipper Slider Unit
---
       Tips and Tricks for Pesky Boat Zipper Repair Problems
---
| | |
| --- | --- |
| | Tip: Determine your marine zipper size (see Actual Size Zipper above), and keep a dozen extra metal zipper sliders and stainless steel crimp-on zipper stops on your boat for repairs. Salt water boaters should replace their pulls once a year. Stainless steel zipper pulls are available and worth the price. You can keep them for life and use them on future boat zippers as well. Another nice add-on boat zipper option is a lanyard zipper pull. This cord attachment adds additional length and makes the zipper easier to grab and pull. |
---
Most Common Failures With
Marine Zippers and Zipper Slider Repairs
. . . And What to do About Them!

---
If the retaining box breaks off:

Sorry, there is no quick fix. Replace the zipper.
If the teeth on each half of the zipper become separated and will no longer hold together:
Check your zipper teeth for extreme degradation.
If you have plastic zipper sliders, try replacing them with metal zipper sliders. Vislon plastic zipper sliders tend to weaken. Once that begins, they won't push the teeth together.
Preventive maintenance helps protect your zipper teeth. Iosso makes a product called E-Z Snap Lubricant designed for use on snaps and boat zippers. Keep in mind, if there is substantial degradation on your zipper teeth, it does make the degraded teeth slippery. This can facilitate the failure of the locking bond between the two sides of the zipper teeth. This is especially so in a load bearing situation such as in zippers for bimini tops. So if you use E-Z Snap Lubricant, it is best to use it from the beginning to slow down the deterioration instead of after substantial deterioration has begun. 
Try wax based products such as Bees Knees for older zippers. This is also great for new zippers. 
Run your thumb across the zipper teeth. Are the teeth falling off after applying a pressure touch? Is your thumb covered with what looks like white or black chalk? A little chalkiness is normal, but a lot is a sign that the zippers are kaput and need to be replaced.
If the zipper slider unit is stuck:
If salt corrosion and age have caused your sipper slider to stick, try spraying your zipper slider with plenty of WD-40 and using a hair dryer on it for 5-15 minutes until the slider works loose.
Your next option would be to try prying open the zipper pull very carefully so as not to break the teeth. This takes time and patience! Using a wide flat head screw driver, tap it between the edge of the pull from the side and force the pull open enough to free the teeth. It's possible that the teeth will still break, but sometimes this method works. 
If these methods don't free the teeth or if you break a tooth while removing the pull, then you can always use our 
EZ-Xtend Boat Zippers
 for a quick and easy repair or you can replace the entire zipper.
You can also try white vinegar to dissolve the corrosion and then replace the slider. 
---
Here is our EZ-Xtend Boat Zipper!

You will find EZ Zips very helpful for shrinking boat canvas since they work as an extender zipper. They also make a great temporary solution for failing zippers until permanent repairs can be made. Make EZ-Xtend Boat Zippers a part of your essential boat gear.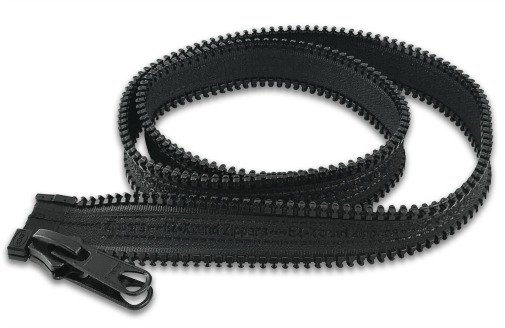 ---
If you have marine zipper strain caused by material shrinkage:
As your boat canvas ages, it begins to shrink. The more strain on your zippers, the more likely the teeth will pop open. This is the perfect time to try 
EZ-Xtend Boat Zippers
 as a spacer zipper to relieve the pressure. If possible, use EZ-Xtend Boat Zippers to relieve the pressure before zipper failure. They can be used vertically and horizontally as spacers between existing zippers. Installing EZ-Xtend Boat Zippers will help extend the life of your boat canvas and boat enclosures.
If zipper stop fails and slider falls off the bottom of your zipper:
Canvas shops use many different methods to stop sliders from falling off the bottom of a zipper, and some of them are not so great. Since you may have reason to replace a zipper pull anyway, you will want to keep a supply of stainless steel crimp-on zipper stops on board. The #10 zipper stops will work on #8 zippers as well. Keep a few handy for repairs.
| | |
| --- | --- |
| Zipper Stop | Zipper Stop in Place |
---
Time to Order Your Marine Zipper Supplies!
---
Get Inspired
Just like Thomas from Lake Winnebago. 
Thomas purchased a zipper from us and created this awesome sailboat cover to keep his boat protected and ready to sail.  Thanks for the photo Thomas!
Order Your Lenzip Separating Vislon Marine Zippers Here!

Please Read before ordering zippers:

The marine zippers we sell are the same zippers we use in our shop and are shown on this page.
These heavy duty zippers for boat covers are made for an outdoor environment. 
The zipper slider that comes with our zippers is metal and has double locking pulls which just means that they won't open by themselves.

We aren't big fans of plastic sliders, but we understand that not every boater feels this way.  If you would prefer a plastic slider, we are happy to send you one with your zipper order to swap out the metal slider that comes with it. The bonus is you have an extra metal slider on hand.  You will find a text box below when placing your order to indicate your preference. 

#8 zippers are only available with metal sliders.

#8 zippers not available in 240" lengths.

A stainless steel zipper stop is sent with the purchase of every zipper.

In our shop, we carry common zipper sizes to cover every boaters needs. 

Tip: Order zippers a size longer than the actual length you will need. They are easy to cut down. 
Don't forget! Know what size zippers you have before ordering. You can determine that information by clicking up to the

Actual Size Zipper

area. If you are unsure, request a sample from our

contact us

 page.

---
---
Order Your Riri Sliders Here!
WE STILL HAVE SLIDERS AVAILABLE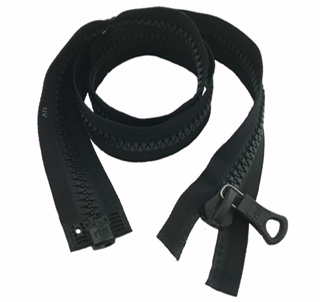 Please Read before ordering Riri zipper sliders:

If you have a Riri Zipper, it will be a size #8

Riri #10 zippers are not available in the U.S.

Riri Zippers are not YKK compatible.

---
---
Order Your Zipper Sliders Here!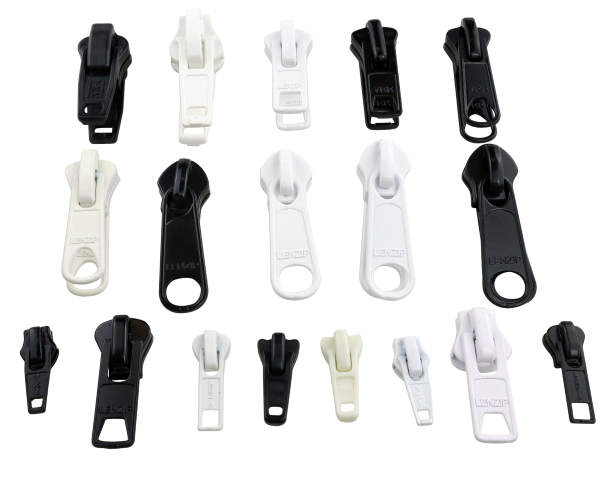 Please Read before ordering zipper sliders:

Zippers sliders should be kept handy on boats because the metal corrodes and the plastic sliders weaken with age, break, or get lost. In a salt water environment, the metal sliders should be swapped out yearly. 

The #10 sliders are available in stainless steel, metal, or plastic with locking double pulls. 

Sliders for #8 zippers are not available in plastic.

All metal and plastic sliders are sold in multiples of five.
Stainless Steel sliders are available in pairs.

If you have a slider with 10c stamped on it, you will need coil sliders.

240" only available in #10 size.

Order stainless steel crimp on zipper stops separately. 

---
---
Order Your Zipper Tabs Here!

     Available colors:


Black neobraid w/black tab

White neobraid w/black tab

Charcoal neobraid w/black tab

---
---
Order Your Stainless Steel Zipper Stops Here!

| | |
| --- | --- |
| Zipper Stops | Zipper Stop In Place |
Stainless steel zipper stops were designed for #10 zippers, but will work for #8 zippers too.

They crimp on the last tooth of the slider side of the zipper as seen in photo above.

Zipper stops are sold in multiples of ten - $2.00

---
Do You Have a Question You Would Like to Ask About EZ-Xtend Boat Zippers or Marine Zippers?
We'd like to help you find a solution! You just might be able to help someone else trying to solve the same problem. Please include your email address, we may choose to contact you directly with an answer to your question.
What Questions Have Other Visitors Asked?
Click below to see contributions from other visitors to this page...

---
YKK is a trademark of YKK
Lenzip is a trademark of Lenzip Corp
RiRi is a trademark of RiRi
EZ-Snap is a trademark of Isosso
---
Be Sure to Check Out All of Our EZ-Xtend Boat Zipper Products!!
EZ-Xtend Boat Zippers
EZ-Xtend Boat Track
EZ-Xtend Drip Shields
---
Please come visit me at Cover Girl Marine Canvas & Upholstery to see some of our awesome work!