Boat Cover Material...Which One Is Best?
---
The answer  is . . .

What boat cover material you use depends on what type of boat cover you are building, where you are living, and how you plan to use that cover. Remember that your boat cover material is the only thing between your boat and the weather!
Below you will find . . .
The fabrics we offer in our store.

A list of the most common boat cover fabrics and their attributes to help you decide what is important to you.

Some of our favorite fabrics listed at the bottom of this page

. 
Sunbrella Storage Cover
---

Add vents to your boat cover to help the boat stay dryer inside!

The faster that air can be released from your boat cover, the dryer the boat cover fabric will stay on the inside. The dryer the boat stays, the less likelihood of mildew growth beneath the cover.
---
Our Fabrics
---
| | | | |
| --- | --- | --- | --- |
| 60" Sunbrella Fabric | 46" Marine Fabric | Sunbrella Plus 60 | Weathermax 80 Marine Fabric 60" |
---
| | | | |
| --- | --- | --- | --- |
| Sunbrella Binding 1" | Sunbrella Binding 3/4" | Top Gun Marine Fabric 60" | Top Notch 60" Marine Fabric |
---
| | | | |
| --- | --- | --- | --- |
| Top Notch 9 Marine Fabric 60" | Top Notch 1S Marine Fabric | Breakwater X Marine Fabric | Stamoid Marine Fabric |
---
| | | | |
| --- | --- | --- | --- |
| Aqualon Edge Marine Fabric | Weblon Regatta Yacht Fabric | Solar Shade Mesh | Insect Mesh |
---
---
Check out more examples of Our work!


Click Here

!
---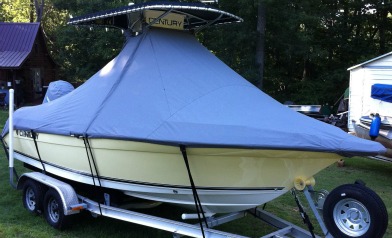 Weathermax 80 T-top Boat Cover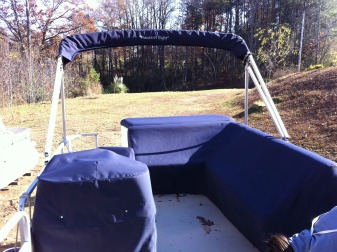 Top Notch Pontoon Seat Covers
All boat cover materials are considered mildew and UV resistant.
Some materials listed below are available as boat covers sold in stores and online.  

There are many more that are not listed. We mention these because they are the more popular boat cover materials available.
Here at our shop, we are firm believers in using materials with a

minimum of a 5 year warranty.
---
---
Most Common Boat Cover Fabrics and their Attributes
---
Acrylic boat fabrics
---
This group of boat cover fabrics is considered a top line choice for boat covers.
The are top line because of their ability to last for years and still look good!
Sunbrella

 – 10 year limited warranty - The most popular acrylic in America.
Tempotest - 10 year limited warranty - This acrylic is from Italy. Not as many colors as Sunbrella
Recacril– 10 year limited warranty – Gaining popularity as a fine acrylic boat fabric.
Dickson– 10 year limited warranty – A fine acrylic, and very popular in Europe.
Sundowner – 10 year limited warranty- Made in Spain, not readily available in the US yet.
Strengths: Breathable, beautiful, UV resistant, and mildew resistant. Available in a huge variety of colors.
Weaknesses: Abrasion resistance is a little weak. Acrylic boat fabrics need to be carefully reinforced. Eventually, this fabric will need to be waterproofed again.
---
Specialty Sunbrella Fabric Products
---
Sunbrella Plus

– 5 Year Warranty – Same as Sunbrella, but treated to make it highly water resistant.
Sunbrella Supreme

- 5 year limited warranty- Flocking on bottom side (almost feels like velvet) 100 % waterproof. A lovely fabric and also expensive.
Seamark

– An acrylic that is bonded to vinyl. Has a 5 year limited warranty and is 100% waterproof.
Seamark fabric starts its life as Sunbrella, is purchased by the Haartz Company, and is coated with a vinyl backing.
Seamark is popular with Sea Ray for their bimini and camper tops.
Seamark and Sunbrella Supreme are expensive fabrics, but desirable for two main reasons. They are 100% waterproof and a perfect match for Sunbrella.
This means you can use it as a waterproof fabric for your bimini and camper tops, and switch back to matching Sunbrella for the enclosures and canvas on the rest of your boat.
---
Polyester Boat Fabrics
---
There are some substantial differences among polyester boat cover material.  So for that reason we group the polyesters into three groups . . .
Group 1 - Coated polyesters
This first group has appearance similarities.
Polyester boat cover material is often used for store bought and online boat covers.
Retail manufacturers have their own brands of coated polyester fabrics and they are generally not available in the aftermarket.
So when buying an online boat cover, look at the warranty to see how they stand behind their fabrics.  This will be very important in judging the quality of the boat fabric.

Aqualon – 5 year limited warranty

Aqualon Edge

 - 7 year limited warranty - New in 2016, has superior heat reflection and heat reduction beneath the cover. We are very excited about this fabric and the heat reduction characteristics. 
Harbor Time- 5 year limited warranty

Top Gun

– 5 year limited warranty
Sure Last – 3 year limited warranty – Economy polyester
Strengths: Easy to work with, looks good, easy to clean, mildew resistant, tough, highly water resistant.
Weaknesses: Some fading over time. Some crazing over time.
Group 2 – Vinyl Coated Polyesters and PVC
This group provides some popular boat cover material choices for the high end group of boaters.
Riviera – 5 year limited warranty

Stamoid

 - 5 year limited warranty. Tough, beautiful, and more expensive.

Breakwater X

- 10 year limited warranty. PVC coated polymers. Super reliable long lasting fabric. Similar to fabrics used on stadium roofs. Easy to clean and beautiful.  
Strengths: Very easy to clean, cool to the touch in very hot weather, tough. Very long lasting, waterproof. Done right it makes a beautiful boat cover.
Weaknesses:  A little more difficult to fabricate with due to the lack of stretch (can show more wrinkles depending on the skill of the fabricator).
Group – 3  Solution dyed Polyesters

This boat cover material belongs to a new generation of polyesters.
Weathermax 80 - Light weight, stronger, and more abrasion resistant than Sunbrella. Can be sewn on a home sewing machine. 10 year limited warranty.
Top Notch 9 -  1 oz. heavier than Weathermax. Sews and looks great, but if you're looking for light weight, try Weathermax. 5 year warranty.
Top Notch – Heavier than Sunbrella, but looks nearly the same. Extremely tough and abrasion resistant. Makes a great travel cover. Not for home sewing machines. 5 year warranty.
Strengths : All group 3 fabrics are strong, UV stable, dimensionally stable, attractive, breathable, highly water resistant, and make beautiful long lasting covers.  
Weaknesses: Even with the improvements in longevity, they still don't outlast the acrylics.
---
Nylon as a boat cover Material?
---
Nylon doesn't hold up well in the sun, so the answer is no, unless you get it for free and make it for free. Don't waste your money!
---
Do we have a favorite Boat Cover Fabric?
---
Yes we do....and of course this is just our opinion!
We like any type of Acrylic such as:  Tempotest and Sunbrella
We also like:
Top Notch 

Top Notch 9 

Weathermax 80 - for such a lightweight fabric, it is a really tough, long lasting fabric. 

Aqualon Edge- because it stays 30% cooler than all the rest, even in dark colors.

Harbor Time Edge - when you need a heavy weight polyester that stays 30% cooler.
These are also awesome fabrics:

Riviera

Stamoid 

Breakwater X
These are exceptionally long lasting boat cover materials and so easy to clean. If you use these fabrics, you should have a fabricator whose skill level is fairly high; this type of fabric requires a little more expertise to obtain that high end look we all love.
---
---
Do You Have a Question You Would Like to Ask About Boat Cover Material?
We'd like to help you find a solution! You just might be able to help someone else trying to solve the same problem. Please include your email address. I may choose to contact you directly with an answer!
What Questions Have Other Visitors Asked?
Click below to see contributions from other visitors to this page...

Be Sure to Check Out All of Our EZ-Xtend Boat Zipper Products!!
EZ-Xtend Boat Zippers
EZ-Xtend Boat Track
EZ-Xtend Drip Shields