EZ-XTEND BOAT STRAPS
Absolutely The Best Boat Tie Down Straps 
Made In The USA

---
Superior Heavy Duty Polyester Webbing Straps For All Your Boat Strap Needs!
---
Highlights on Our Boat Strap Components:
Custom boat straps sewn in our shop here in the U.S.A. 
Lifetime thread that is impervious to UV degradation
Double bar box stitch provides added strength for boat straps
1" Polyester webbing with 4500 lb breaking strength, outperforming both nylon and polypropylene webbing. 
Two strength levels of quick release buckles available with either 250 lb breaking strength or 357 lb breaking strength.
All stainless steel hardware on all straps using metal components. 
Heavy duty snap hooks with an actual 5 year warranty
---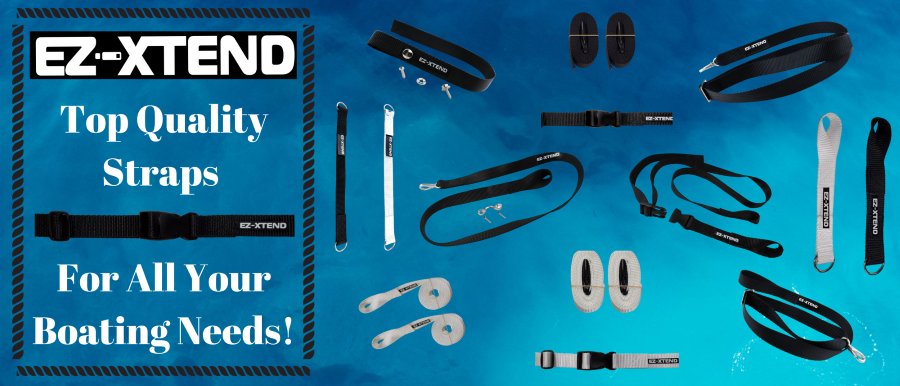 Top Quality Straps
---
---
All components of our EZ-Xtend boat straps, from thread to webbing, are chosen for strength and longevity. We don't just manufacture straps, we have been fabricating custom marine canvas for our customers for 35 wonderful years, we know what it how to make products that last.
We bring a level of expertise to the products we design and manufacture in our shop that is unmatched. Every component we incorporate into our straps is carefully chosen to last over time and is used for our local business.
We 100% guarantee you will see the quality the moment you have them in your hands.
Let's Look at Your Options...
In our EZ-Xtend boat straps line, we offer our:  pontoon ladder straps, straps for sails on sailboats, boat cover trailer tie downs, bimini top straps / pontoon canopy straps, D-ring straps, and utility straps. 
---
P

ontoon Boat Ladder Accessories
---
Our EZ-Xtend pontoon boat ladder accessories are specially designed for your folding rear entry pontoon ladder.
• Pontoon ladder snap strap used for securing your ladder in the closed position. Simple to install and available in multiple lengths of 18", 24" and 36".  This versatile pontoon ladder strap is also great for many other boat snap strap applications such as a boat transom gate strap or boat cabin door strap.

• Pontoon ladder pull up straps are available in two styles. Each pontoon boat ladder strap is designed to assist you in pulling up your pontoon boat ladder. One is designed with a quick release buckle and the other strap has a hook system.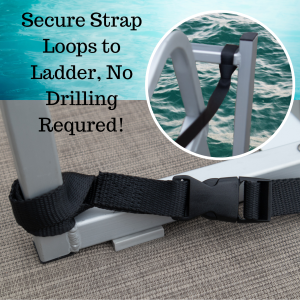 Ladder Pull Up Quick Release Strap
Ladder Snap Strap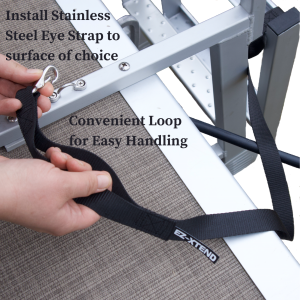 Ladder Pull Up Hook Strap
---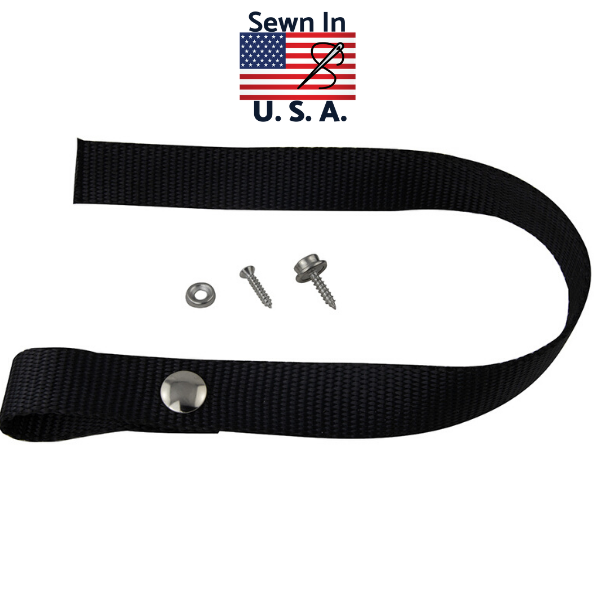 Pontoon Ladder Snap Strap

---
Sail Ties
---
Flaking your sail must be done, but keeping it in place while you put your sail cover on and keeping it from falling out of the sail cover can be a challenge. Try our heavy duty EZ-Xtend sail tie down straps.
Our sailboat sail ties come in two styles: Simple Loop Sail Ties and Quick Release Sail Ties. Both of these styles are made with our super tough, heavy duty polyester webbing that will not rot, fray or bleed.
Sail Ties With Loop - Photo Courtesy Cover Girl Marine Canvas
---
---
Boat Cover Tie Down Straps
---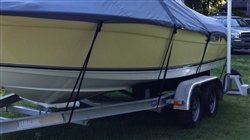 Photo Courtesy of Cover Girl Marine Canvas & Upholstery
Securing your boat cover properly with EZ-Xtend boat straps using our boat cover tie down system will give you the knowledge your boat is secure for travel or storage. When boat cover tie down straps fail while the boat is stored, you risk returning to find your boat cover filled with water.  Likewise, if you experience failure on the highway, your boat cover could blow off and cause an accident.  You can easily avoid these worries when you use well made, long lasting boat cover tie downs. Accessories for your boat cover should include a set of well made tie down straps.
Our strong, durable straps can be used on your boat cover, pontoon cover, RV cover, and more.  They can be cut to length as needed.  Another awesome feature of our boat cover adjustable strap kit is that the boat cover tie downs can be numbered so you can know exactly where each strap goes.  This premium polyester webbing boat cover strap kit outperforms other boat cover tie down systems that use polypropylene and nylon straps.  
Try our boat cover replacement straps and experience the same level of strength and security you will find with all of our EZ-Xtend polyester straps. Also, we'd like to share with you some other methods for tying down your boat cover. 
---
Boat Cover Tie Down Straps

Number Your Straps

Tie Down Straps Can Be Numbered

---
Bimini Top Straps And Pontoon Canopy Straps
---
One of our most popular lines is our Bimini top hold down straps, also used for pontoon boat canopy straps and pontoon boat tie down straps. We really go all out on these straps and our customers love them!  These Bimini top adjustable straps won't need replacing for a long, long time. They are sure to please even the most particular Captains, and they make wonderful gifts. These are available as either a Single Hook Bimini Top Strap with Loop or Double Hook Bimini Straps and D-ring rails traps. 
Be sure to purchase your Bimini top replacement strap or pontoon boat straps using the links below: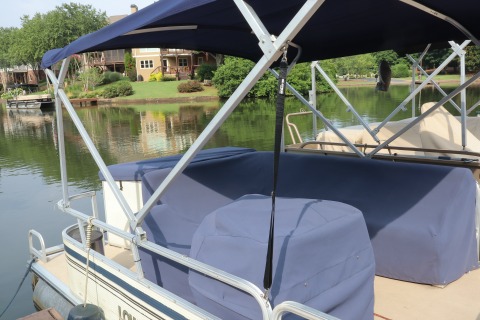 Photo Courtesy of Cover Girl Marine Canvas & Upholstery
---
---
D-Ring straps
---
D-Rings are used for attaching Bimini straps to your boat railing.  You can choose to go with an 8 1/2" strap that has a loop on one end and a D-ring on the other, or you might choose to go with a 12" strap that has a D-ring on both ends. Either way, you will be getting a high quality, durable, long lasting strap. Our D-Ring straps are made from heavy duty polyester, lifetime thread, and stainless steel d-rings, so you can be assured of the quality.
We sell two styles...
Single D-Ring - An 8 1/2" short strap with a D-ring on one end and a loop on the other for looping around railings.
Double D-Ring- A 12" short strap with a D-ring at both ends for looping around railings.
| | |
| --- | --- |
| Single D-Ring Strap | Double D-Ring Strap |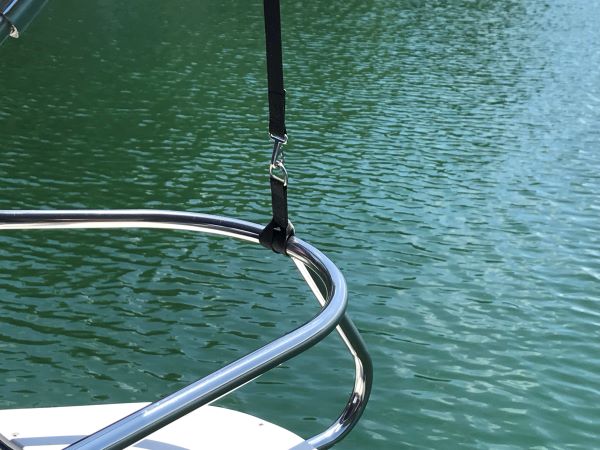 Photo Courtesy of Cover Girl Marine Canvas & Upholstery
---
---
Utility Straps
---
Another strap that we make in our shop here in the U.S.A. is our multi-use utility strap. These straps are adjustable and are perfect to use as boat cover straps, utility straps, car roof luggage straps, golf pull cart utility strap, or any other application that needs quick release tie down straps, a heavy duty utility strap or a utility strap with buckle. Choose the size of your utility strap with buckle from 4 foot, 6 foot, or 8 foot lengths.
Our utility straps are very tough and durable which makes them perfect for outdoor use. They are weather resistant, UV resistant, and also long lasting even in water. Quality is important to us and we like to pass that on to our customers through our products, so rest assured that your items are well secured when you use these cinch straps with buckles.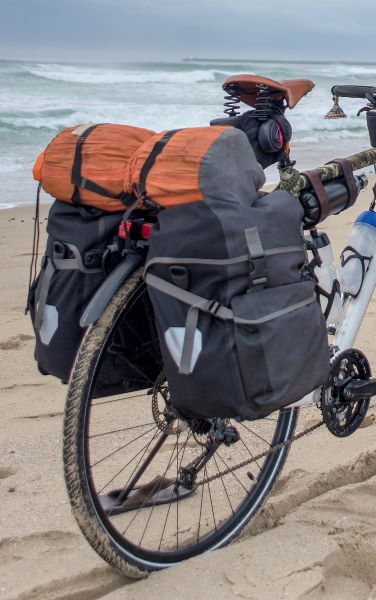 ---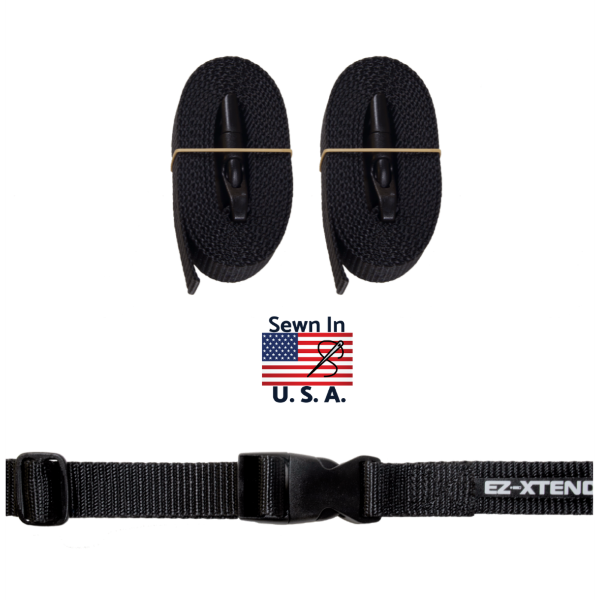 Utility Straps

---
Be Sure to Check Out All of Our EZ-Xtend Boat Zipper Products!!
EZ-Xtend Boat Zippers
EZ-Xtend Boat Track
EZ-Xtend Drip Shields
---
Please come visit me at Cover Girl Marine Canvas & Upholstery to see some of our awesome work!