Boat Cover Tie Downs:
what's holding your boat cover on?

    Highlights:
Boat cover tie downs for trailers and storage
Tie downs to keep boat covers attached to the boat
Other systems
Buy boat cover tie downs!
Have a question? Ask us at the bottom of the page!
---
Boat Cover tie downs for trailers and storage
---
Keeping your boat cover securely attached to your trailer for storage or transport can be achieved in several different ways:
Bungee Cords (storage only)
Rope
Quick release webbing straps
Rope ratchet devices
---
Bungee cord boat cover tie downs
---
Bungee cords/shock cords, sometimes spelled (bungie cords), are favored by many boaters for their ease of use. The biggest complaint you'll hear is that they don't hold up in the sun. As they degrade, they weaken and stretch. My concern is a safety issue that not everyone considers: If the cord slips out of your hand when you have it stretched tight, it can pop you in the eye so be very careful!
Your average shock cord is usually a nylon-covered synthetic elastic core. Since nylon just doesn't hold up well in the sun, it makes sense to have an adjustable hook end and one where the bungee can be easily replaced.
A better choice is the polyester-covered bungee since polyester holds up better in the sun. Solcor® is a favorite of ours, but is difficult to get in the US. It has a solid rubber core and a UV-treated polyester cover. The hook ends can be adjusted and used again on future replacement cords. 
We spotted this lifetime warranty bungee that we like and believe it will serve you well! 
---
Rope for boat cover tie downs
---
Rope tie downs are frequently used by boaters, especially when the boat is being towed, so it makes sense to buy rope that is going to hold up year after year. Polyester is the longest lasting, toughest rope. It will outlast nylon and polypropylene. Our favorite is Neobraid. This braid will take years of sun and abuse without giving up. It will not kink, twist, or fray, and it also resists mold, oil, and stains.  For your average boat application, use either a #6 = 3/16" or a #8 = 1/4".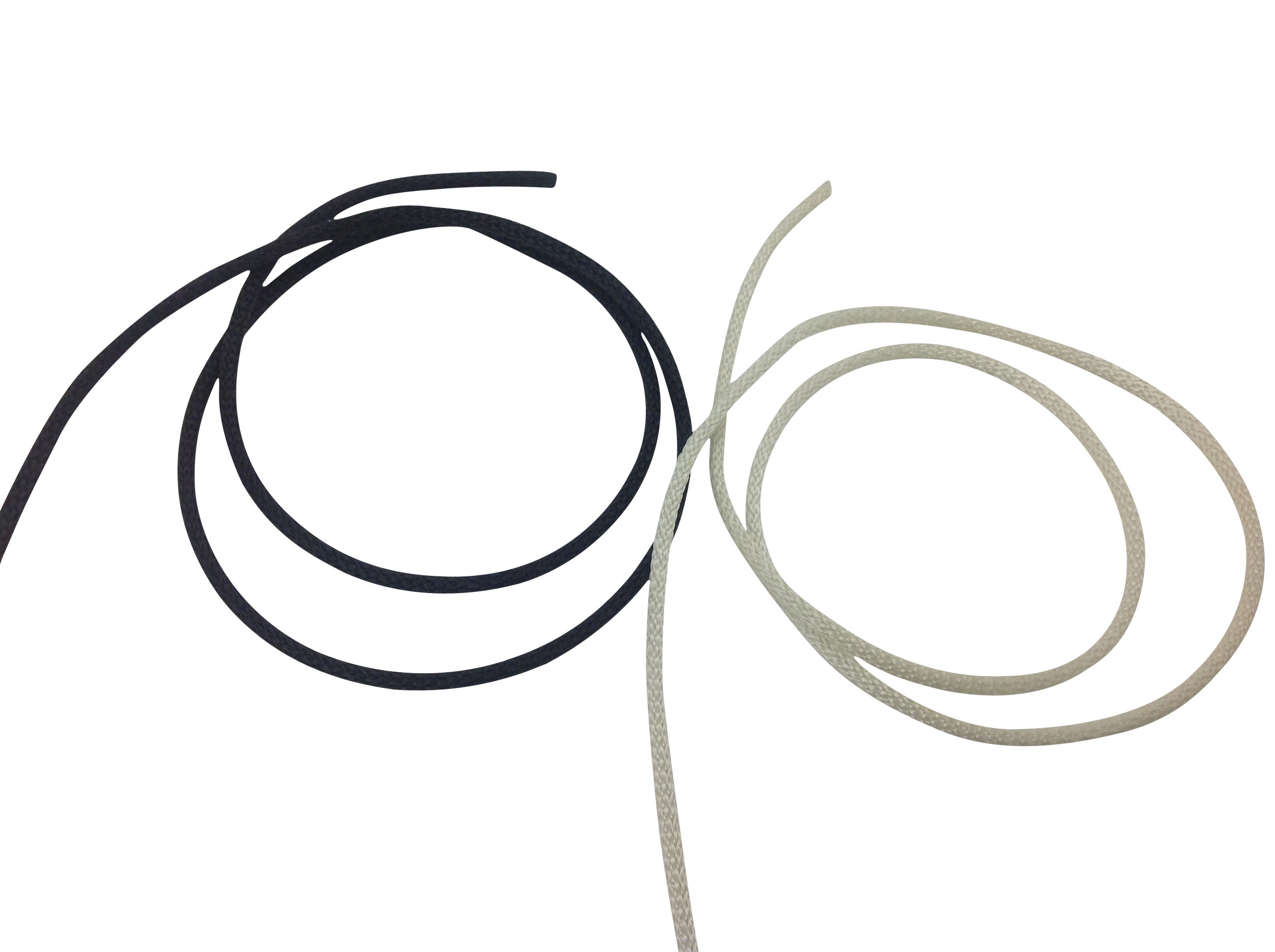 Neobraid

---
My favorite boat cover tie down knot
Easy to cinch tight!
---
---
Webbing straps as boat cover tie downs
---
Boat Straps made with 1" webbing coupled with quick release buckles are easy to use and are a personal favorite. We always supply this type of tie down when we make custom covers. They are even better if they are completely removable from the boat cover. It makes life so much easier when they don't catch on the boat while handling your cover.

So what type of webbing should it be?
Here is a list of webbing materials commonly used for boat tie downs beginning with the longest-lasting. It is exceptionally hard, if not impossible, to find the polyester straps online. If you want them, you would need to order them from us or another custom shop.
Polyester
Nylon
Polypropylene
Keep an eye on your straps as they age and replace them when they begin to show wear.
| | |
| --- | --- |
| Heavy Duty Polyester Webbing Black | Heavy Duty Polyester Webbing White |

---
Premium quick release boat cover Tie Down straps
---
What makes them different from any other strap on the web?

100% Heavy Duty Polyester
Lasts longer than any other strap out there! Guaranteed!
---
Our Heavy Duty Polyester Webbing Tie Down Straps come in 6, 8, 10, and 12 foot lengths.  Sewn with Lifetime Thread to ensure longevity, these strong and durable straps have 4500 lb breaking strength and are weather and UV resistant. The Delrin Quick Release Buckles have 250 lb breaking strength. Straps are sold in packs of 2.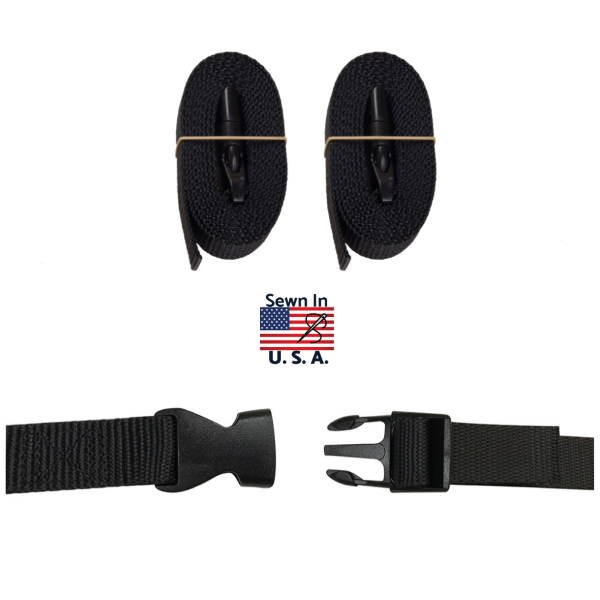 Boat Cover Tie Down Straps

Need a different length?  No problem, since they are custom made, just send me an email and we'll discuss it. 
---
DIY Straps
---
If you prefer, you can make your own tie down straps. Here is a list of the supplies you will need:
Classic Cam Buckles 25 mm

| | |
| --- | --- |
| 92 Polyester Thread 8 oz Available in Black and White | 138 Polyester Thread 1 lb Available in Black and White |
| | |
---
Boat Cover tie downs sewn into the hem
---
Boat covers have to be cinched in some fashion to the boat itself. There are multiple ways to do this. One is to have rope sewn into the hem of the cover and tie it to itself. If you have a rope-style cinch system on your boat cover, use the same type of knot pictured above for cinching the cover to the boat.
For an even more secure cinch, a second option is to try a rope lock tie down such as the Carolina Rope Ratchet®. When you pull this rope lock tight it won't slip, so you can continue to tighten it and then press a button to release it. We like these because they make life easier and can be pulled super-tight.
---
A third way to cinch your cover to the boat is with webbing in the hem along with the use of a webbing ratchet such as this Pro-Grip® ratchet. If you use webbing and a ratchet to secure your boat cover, it should have it's own little storage boot or another creative way to protect the paint on your boat from the metal ratchet. They are clunky and can damage your boat without protection.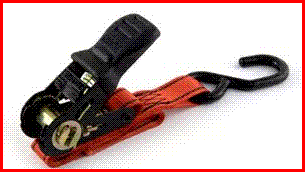 ---
Other boat tie down systems
---
Large suction cups are another way boat covers can be held in place. I am not a fan of boat suction cups. I have found them to be unreliable and feel that they can actually cause damage to the hull.
On boats that need additional tie downs while in the water, I've seen boaters attach 2 liter soda bottles filled with sand or water to the webbing tie down straps which adds weight to the cover. This can be effective, but the appearance is obviously less than elegant.
That's completes our run down of boat cover tie down systems. We hope that with this information, you will now be able to choose the system that's right for you!
---
Do You Have a Question You Would Like to Ask About Boat Cover Tie Downs?
We'd like to help you find a solution! You just might be able to help someone else trying to solve the same problem. Please include your email address, I may choose to contact you directly with an answer.
What Questions Have Other Visitors Asked?
Click below to see contributions from other visitors to this page...

---
Be Sure to Check Out All of Our EZ-Xtend Boat Zipper Products!!
EZ-Xtend Boat Zippers
EZ-Xtend Boat Track
EZ-Xtend Drip Shields
---
Please come visit me at Cover Girl Marine Canvas & Upholstery to see some of our awesome work!