Bimini Tops For Boats
How Do I Choose?  What Are The Differences?

    Highlights on Bimini Tops for Boats:
Differences in Retail and Custom Bimini Tops

Bimini Top Fabric

Bimini Top Frame

Bimini Top Hardware

Bimini Tops for Pontoon Boats

Summary: Why choose one over the other?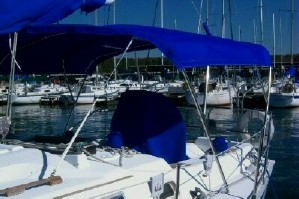 Photo Courtesy Cover Girl Marine Canvas & Upholstery, Inc.
Buying bimini tops for boats should be easy, and it is if you know what you are getting. There are a few basic differences between a custom built bimini top and a retail or online version of a boat bimini top.
Let's break it down and take a look at the differences between buying a custom built bimini top vs retail or online version.
---
What are the differences in Bimini Tops for Boats?
---
Price is the biggest difference that boaters notice when looking at the two different versions of bimini tops for boats, but there are also differences in materials, quality, fit and even thread.

---
Bimini top fabric choices
---
You can get similar fabric choices in both custom and retail bimini tops for boats. Sunbrella is the fabric choice most people are familiar with, and it is available in both the custom and retail options.
I'm just going to go ahead and say that you should choose Sunbrella when buying retail bimini tops for boats. It's going to last longer, and it has the longest warranty. Avoid fabrics with three year warranties or less. At a custom shop, you will have far more excellent fabric choices. Some examples are:  Weathermax 80, Top Notch 9, Stamoid, and more.
Bimini Straps are also worth mentioning. Retail bimini straps will most likely be polypropylene, and custom shops will use nylon, polyester, or acrylic. These are all better choices than polypropylene, and I have listed them in order of longevity.
---
differences in bimini top frames
---
Frames bought online are made of either aluminum or stainless steel, and they come shipped to you in pieces. You will be required to assemble the frame either by riveting or screwing.
Custom shops will make you a bimini top frame designed for your boat and you won't have to do a thing. A stainless steel frame is a better choice no matter where you buy as long as it is within your budget.

---
differences in bimini top hardware
---
Online boat biminis most often come with plastic fittings. If you search really hard, you may find an upgrade to metal, but I have yet to see it. Plastic is weaker than metal, especially stainless steel. It also degrades in the sun. You can expect them to break and need replacing at some point.
Some custom canvas shops provide plastic, but they always offer upgrades when you request plastic.  If your budget allows, go with stainless steel.  Some canvas shops only offer stainless fittings and mine is one of them.

To learn more about bimini top hardware, check out our boat top parts web page.
---
Bimini tops for pontoon boats
---
If you are thinking about buying a pontoon boat bimini top, then you will most likely already have the frame.
If you do have the frame, any replacement bimini top you find online will not fit properly since it was designed for another frame. This leaves you with two choices. You could buy the frame and all, or you could have your bimini top cover custom made.
If you buy the frame and all online, then you will most likely have bought an inferior gauge of metal compared with what you already had. You will find that it will most likely be cheaper than having a custom bimini recover done on your old frame. This may be tempting, but keep in mind the inferior quality of the frame. If you need a frame, then just look carefully for size and gauge of the metal, fabric, and other comparable components.
---
Quick Summary
---
        Buying bimini boat tops online:

They are substantially cheaper
You just need some shade with no frills
You don't plan on hanging a boat enclosure from it in the future. Online versions don't reinforce for zippers and snaps which would be installed later for an enclosure.
You need shade quickly (custom canvas shops usually have a waiting list)
Buying a bimini top custom made:
They can be pricey
They are built to last
You can make all of your own choices
They are designed to fit your boat and any future needs you may have for a boat enclosure.
Using a local canvas shop is a bonus in case of warranty work or any problems that may arise in the future.



Sunbrella is a registered trademark of Glen Raven Inc.
Weathermax 80 is a registered trademark of Safety Components
Top Notch is a registered trademark of MarChem CFI
Stamoid is registered trademark of Ferrari Group



---
Water Sealing Your Bimini Top
---
Xtreme Seal is your answer!  It works well to provide a water tight seal on all types of custom covers.  It has a flexible design and can be sewn or glued to most surfaces or materials.  This oil, solvent, and gas resistant product is made with the most advanced EPDM 1 rubber material available.  It forms a 3-point seal on most surfaces to keep moisture out and has also been Ozone and UV tested. 
Xtreme Seal is a trademark of Xtreme Seal LLC
| | |
| --- | --- |
| Xtreme Seal - Before Installation | Xtreme Seal - After Installation |

---
---
Be Sure to Check Out All of Our EZ-Xtend Boat Zipper Products!!
EZ-Xtend Boat Zippers
EZ-Xtend Boat Track
EZ-Xtend Drip Shields
---
Please come visit me at Cover Girl Marine Canvas & Upholstery to see some of our awesome work!