Bimini Top Accessories Present a Variety Of Installation Choices.
Do You know What Your Options Are?

Highlights for Bimini Top Accessories

Bimini top strap positioning and attachment.

Best strap materials and hardware options.
Click to buy bimini top accessories
Take A Look At The Following Bimini Top Accessories To See Some Of Your Options
Bimini Top Strap Positioning and Attachment
Every boat owner is clear that bimini top straps support bimini tops in the open position.

What people aren't always sure of is how and where they should be attached to the bimini frame.
Let's look at attachment options first.
Straps come in 3 basic style configurations.
1. A D-ring (for attaching to the frame, via a jaw slide) and a snap hook at the other end for attaching to the boat. Another D-ring style strap is double ended and used for attaching a bimini strap to a railing.

2. A loop in the webbing at one end (for looping around the frame) and a snap hook at the other end (for hooking to a eye strap somewhere on the boat).
3. A snap hook at both ends. With this style the frame will have a jaw slide or an eye strap to connect the strap to and the boat will have the typical eye strap for attachment.
Bimini strap positioning.
The job of the bimini top strap is to securely hold open the bimini top. Besides securing the top against wind and wooble, they will also pull the bimini open taut enough so the bimini will not hold water.
If your replacing a bimini top strap then you may already have designated spots built into your bimini top for the straps. If so then your bimini has been pre designed for maximum effectiveness.
If you are building a bimini yourself then you should know that your straps will be most effective placed well above the side radius and pulling from front to back directly across from each other as is possible.
If you are attaching high up on the side leg of the bimini top frame because this is your only choice, your options are:
1. You can use the loop style (the loop without a place to secure will slide down the leg of the frame and you will be forced to screw the webbing onto the frame to keep it from sliding) unless you add a jaw slide.
2. Adding a jaw slide to your bimini top frame leg will receive your bimini top straps with loops, D-rings, or snap hooks and keep your bimini top strap from sliding. This is a great way to solve attachment problems.
If your frame fittings won't come off making it easy to slide a jaw slide up the leg of your bimini, you can try a hinged jaw slide.
We believe our bimini top straps are the best available on the web. Here is why!





We sell three styles

1. Double D-Ring- A short strap with a D-ring at both ends for looping around railings


2. Single Snap Hook- An adjustable length strap with a loop at one end with a single snap hook at the other end.

3. Double Snap Hook- An adjustable length strap with a snap hook at both ends. Mostly seen on pontoon boats.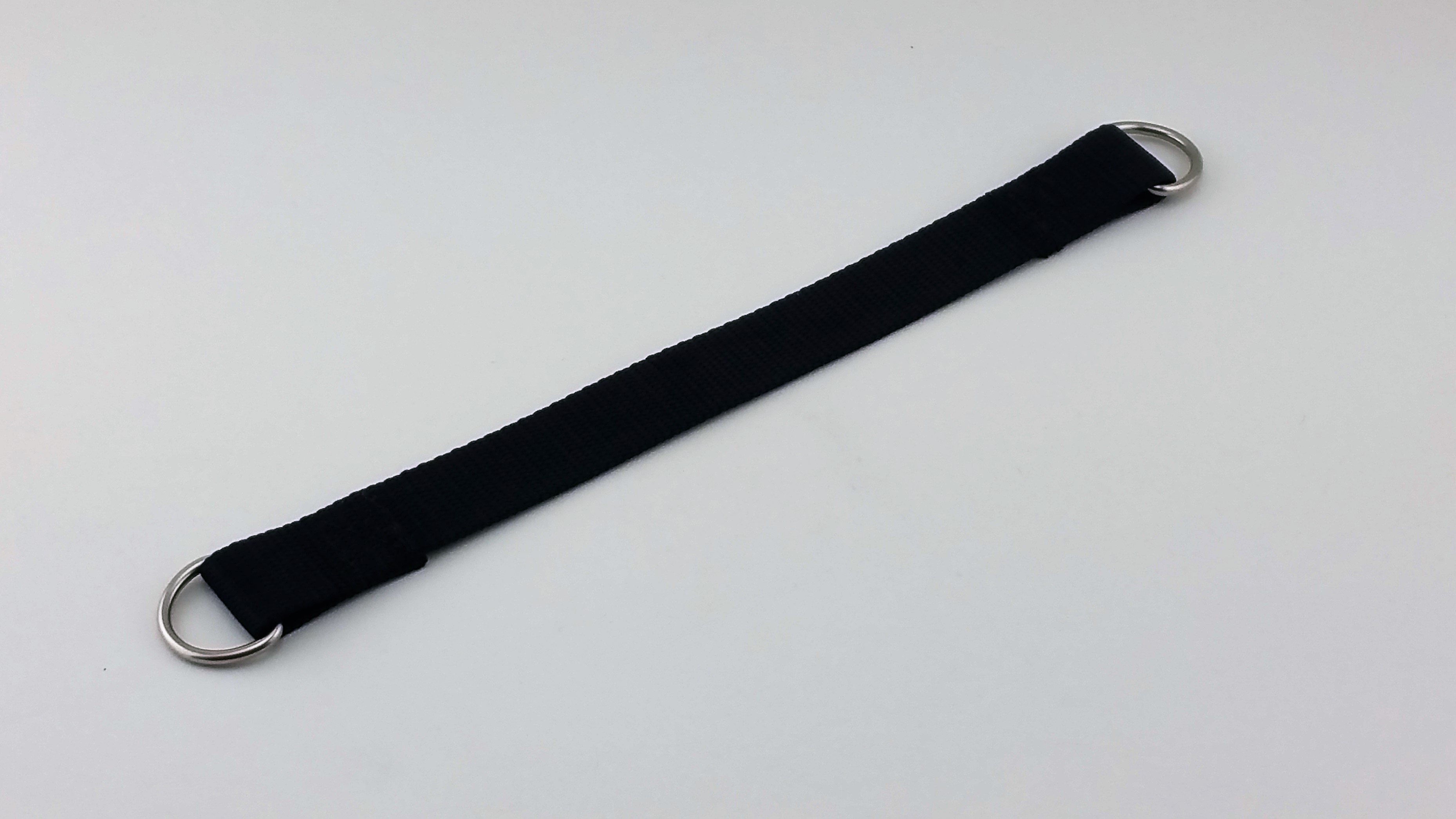 Double D-Ring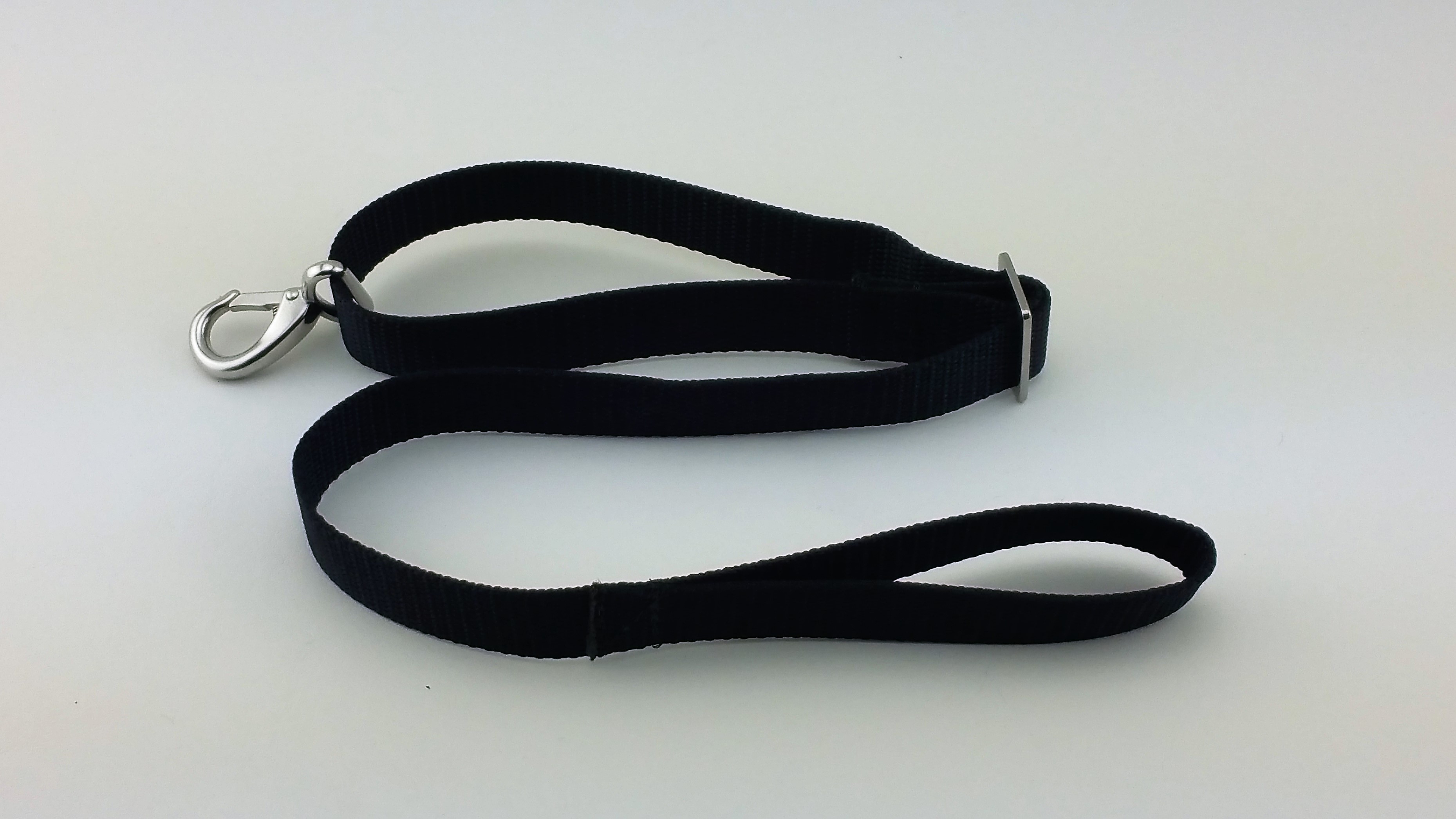 Single Snap Hook
Double Snap Hook
Strap Adjustment Ranges
---
| | | | | |
| --- | --- | --- | --- | --- |
| | 24" | 36" | 60" | 96" |
| Single | 21-30" | 28-43" | 40-69" | 56-105" |
| Double | 23-35" | 30-48" | 42-74" | 59-110" |
---
Bimini Top Strap Materials and Hardware
Webbing materials:
Polypropylene

Nylon

Polyester

Acrylic
Polypropylene is the first of the materials listed and the most common found online for sale. It is the quickest to break down in the sun. The UV rays quickly degrade polypropylene, causing it to literally disintegrate.
Nylon will stand up to the sun better than polypropylene and is a common material used by custom canvas shops.
Polyester is a great choice and my favorite, but more expensive and uncommon for custom fabricators to use, I have never seen polyester straps for sale on the web (with an exception of this website) You may occasionally hear about dacron webbing as a choice for webbing.  Dacron is polyester and a trade name created by Dupont.  
Acrylic webbing commonly called Sunbrella webbing is also an excellent choice for bimini straps.
Bimini Top Strap Hardware

If you want to make your own straps or need to replace a part:

| | | |
| --- | --- | --- |
| Eye Straps | Single Bar Adjuster Buckle | Dee Ring |
| | |
| --- | --- |
| Wire Snap Hook | Heavy Duty Snap Hook |
Bimini Top Strap Webbing
Heavy Duty 1" polyester (perfect for long lasting bimini straps)
Highly UV resistant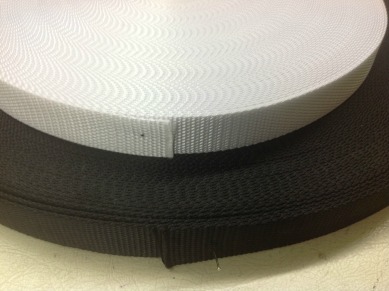 *Important points: Although plastic bimini top accessories have come a long way in regards to UV degradation, metal is still king.
Consider buying straps with metal hardware. With most online purchases the metal will most likely be nickel plated brass, but that is preferable over plastic. We sell all stainless steel!
Choose the heavy strap hook over the standard strap hook if possible, it's much stronger and safer.
Bimini Top Support Poles
Support poles are a desirable alternative to bimini top straps.
Bimini top support poles give a more secure and stable support option with a lower failure rate. They also give a great option for storage by allowing you to lay the bimini frame backwards on support poles. You can then slip on your bimini top boot and keep your bimini top stored above and out of your way.
Boat owners who have straps instead of poles support often struggle with where to store their bimini tops. Changing out a strap system for a pole support system is easy. There are many kits available on the web although most, if not all come with plastic fittings.
Support Pole kits may contain the following items, again mostly in plastic
Bimini Top Support Pole Installation Tips
Hopefully you can install you poles at a 30° to 35° angle from the back of your bimini. This may not be possible, but the better the angle, the better the fit.
Look at the place where the deck hinges will be attached to the boat. Is there an angle? If so, either purchase angle deck hinges or buy a shim to correct the angle.

We like to use double set screw eye ends on our poles. This keeps the down the possibility of failure (picture a bimini giving way underway!) Ughh. If you only have one set screw you can always drill and rivet or drill and machine screw for added saftey. (Or you can just buy ours, the strongest available!).
Countersink the holes in the fiberglass. If you don't have a countersink use a phillips head drill bit in your screw gun to ream out the top of the hole
Always caulk your screws with boat grade caulk.
When measuring for your support pole replacements, please include the eye ends in your measurements.

Why we think our support poles are special:


All components are stainless steel.

The eye ends are double set screw for added strength for safety. 

Double set screws keep them from falling off. 
---
Bimini Support Pole Clips
Available sizes 7/8"and 1"
---
Bimini Support Pole Mounting Hardware 
Standard Flat Surface Deck Hinges
| | | |
| --- | --- | --- |
| Straight Deck Hinge w/ Screw | Straight Deck Hinge w/ Pull Pin | Angle Deck Hinge |
Click to View Deck Hinges in Store
Swivel Hinges (for more versatile mounting solutions)
| | |
| --- | --- |
| 90° Universal Deck Hinge | Heavy Duty 90° Adjustable Deck Hinge |
Mounting Plates for Vertical Surfaces
| | |
| --- | --- |
| Side Deck Plate (4 hole) | Side Deck Plate (2 hole) |
Hinges to Mount Bimini Tops to Boat Rails
| | |
| --- | --- |
| Concave Hinge | Hinged Jaw Slide |
---
---
We hope we have helped clarify some of your options for bimini top accessories. If you have further questions contact us for a swift reply on our contact us page.
Happy Boating!
Be Sure to Check Out All Our EZ-Xtend Boat  Zippers Products!!
EZ-Xtend Boat Zippers
EZ-Xtend Boat Track
EZ-Xtend Drip Shields