Pontoon Boat enclosures
extend your boating season!

    Highlights on Pontoon Boat Enclosures:

Bimini Top Strong Enough as a Support?

Custom Job or Production Enclosure?

Which Materials to Use?

Care and Cleaning

Storage Tips

Saving an Aging Enclosure
---
evaluate the bimini top on
Your Pontoon Boat Enclosure
---
Consider the age - Pontoon boat enclosures are expensive, and the last thing you want is your bimini failing after a year or two. Marine fabricators don't like to make bimini tops that have to be re-attached to existing enclosures (speaking for most marine fabricators). It's difficult to line zippers up and make it fit correctly, sort of like going backwards on a puzzle.

Quality of construction – Pontoon boat enclosures are very heavy, so it's important that your pontoon bimini top has been built to properly support the weight.
Most manufactured pontoon bimini tops aren't double reinforced along the edges for zippers that you plan to install. Think about this for a minute: How much weight will the clear vinyl and fabric add to your bimini.
On top of the fact that you're adding all this weight to single layer of fabric, the fabric itself may not be very substantial. These combined factors can really bring on repair troubles for weak fabric on old pontoon bimini tops.
Before hanging a new enclosure off an existing bimini top, consider the age and construction. When possible, start with a new, well built bimini top. Your marine fabricator should be able to help evaluate what you have if you're unsure.
---
A custom job or Production Enclosure?
---
Although money would normally be your first consideration, this case is different. Your first consideration will really be, do you have any other choices available to you besides custom?
Unfortunately for the pontoon boat owner, limited options exist for ordering online.
Some of the big production manufacturers online include: TaylorMade products, Ameritex owned by TaylorMade Products, Great Lakes Boat Tops ,and, again, don't forget to check with your boat's manufacturer.
Availability from boat manufacturers will be mostly for boats that are 4 years or younger. Keep in mind that you will still have to hire an installer locally. Also, any modifications may have to be done locally as well.
Custom pontoon boat enclosures would most likely have better quality materials, will last longer, and will be built to your specifications. That is considering you have some qualified marine canvas shops in your areas.
If you plan to have a custom job built, then check out this page about custom boat covers before hiring a marine fabricator to build you a pontoon enclosure.
---
best materials for Enclosures
---
There will be a few more material choices available to you with a custom job than with a production job.
Ideally, choose fabric with at least a 5 year warranty. Also use #10 marine zippers, instead of #8. Your thread should be 138 UV Polyester if possible or better yet, lifetime thread.
None of these may be available to you with production canvas.
For more information about boat fabrics, boat zippers or outdoor thread, click on the links.
Educating yourself about the materials used to build pontoon boat enclosures will help you get the product you want from your marine canvas shop.
---
Care and Cleaning
---
The marine fabrics of today are very mildew resistant, so why do they look so bad after a short time? It's because the dirt that is allowed to build up on the surface gives a prime place for mildew to grow. Keep it clean and you will get much more life out of your enclosure.

To start your cleaning process start by using just plain water, rinse off your enclosure and remove any loose dirt that might scratch the surface of your boat enclosure's vinyl.
Next try one of these cleaning products:
Clear vinyl cleaning -

Imar

,

Davies Klear to Sea

, and Novus are brands used for clear vinyl care and maintenance. Use a clean chamois cloth.
Canvas cleaning -

Iosso Mold Mildew and Stain Remover

, 303 Fabric and Vinyl Cleaner or Starbrite Sail and Canvas cleaner are used for cleaning. Only use cleaners that are formulated especially for cleaning boat canvas or vinyl. Why? It's because some cleaners can actually change the molecular structure of your boat canvas or vinyl. This causes premature aging. Also, avoid Clorox based cleaning solutions, except as a last resort; you can easily rot your threads.
After a thorough cleaning protect your clear vinyl with a product like Imar protective polish.
Do regular maintenance and your enclosure will do a good job keeping you warm and dry for a long time.
---
Storage Tips
---
Try not to leave your enclosure rolled up when you leave the boat. This practice is very hard on the plastic. Snap down the enclosure when you leave the boat, this also helps prevent shrinkage.
To keep rolled up pontoon boat enclosures from sagging in the summer, roll up with noodle pool toy. This makes a really nice roll that you can support with your roll up straps.
The following tips are for storage of your panels when you're not using them
Tip 1 - Always store your pontoon boat enclosures clean and dry.
Tip 2 – Store pontoon enclosure panels layered between sheets. This helps keep them from imprinting onto each other.
Tip 3 – If you must store your panels under a seat, interleave your panels with towels or sheets. Then, roll it up on 2 or 3 pool noodles to keep them from crimping and creasing. Once this is done, put it in a waterproof bag, but make sure they are clean and dry.
Tip 4 - When done using your panels for the season, take them home and store them flat if possible. A great way to get them up and out of the way is to suspend a cardboard carpet roll in your garage or basement to drape your pontoon boat enclosure panels over. Don't forget to interleave the panels with some type of fabric.
---
How To save an aging enclosure
---
We have touched on a few tips in the care and cleaning section.
One of the biggest problem aging enclosures have is shrinkage.
Have a look at our EZ-Xtend Boat Zipper solutions that will help add much needed slack to a shrunken enclosure. Relieving stress on zippers, making your boating experience easier and extending the life of your enclosure.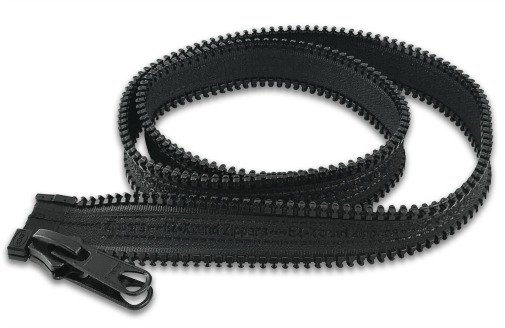 EZ-Xtend Boat Zipper

Pontoon boat enclosures are such a great way to extend the boating season for your family. Take care of yours and you will have years of boating pleasure when the rest of the boating population is at home trying to stay warm.

---
NEW!! Sunbrella Sunzip III #10 Marine Zippers
---
These NEW Sunbrella Sunzip III #10 marine zippers could be just the thing to help you deal with the harsh elements of boating.  Designed with that in mind, these zipper teeth are manufactured using a UV resistant resin.  These zippers are the VERY FIRST with zipper tape made from 100% Sunbrella Fabric, and also the VERY FIRST bleach cleanable, high performance marine zipper on the market.  
Sunbrella is a registered trademark if Glen Raven Inc    
IDEAL Fastener is a registered trademark of  IDEAL Fastener Corporation
Sunbrella Sunzip III Zippers

---
Return from Pontoon Boat Enclosures to the Canvas Boat Cover and Repair Advisor

---
---
Be Sure to Check Out All of Our EZ-Xtend Boat Zipper Products!!
EZ-Xtend Boat Zippers
EZ-Xtend Boat Track
EZ-Xtend Drip Shields
---
---
Please come visit me at Cover Girl Marine Canvas & Upholstery to see some of our awesome work!