Considering a Custom Boat Enclosure?
Tips To Help You Decide

  Highlights:
---
---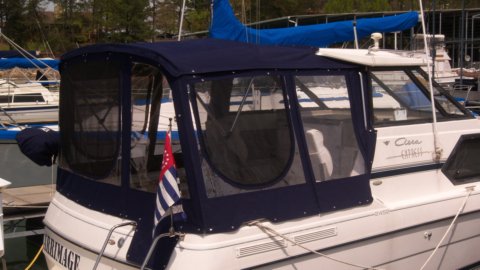 ---
Boat enclosure configuration tips
---
Ideally, your boat enclosure should compliment the lines of your boat. It should make moving around quick and convenient. Your panel sizes should be easy for just one person to handle. The larger the panel, the more difficult to handle, and the easier it is for the panels to get damaged. When possible, keep your panels between four and five feet in size.

A tight budget might be an exception since more panels means more money.

Your front panels should be placed for maximum visibility with a panel centered in front of where the captain sits. You should also think about entry and exit points.

Next, give some thought on how your panels will roll up. For example, panels that wrap around corners can't roll up without damaging the plastic. Visualize where panels should be, panel sizes, and how you will roll them up quickly when the weather changes.
---
boat enclosure panels shrinking?
having trouble snapping?
---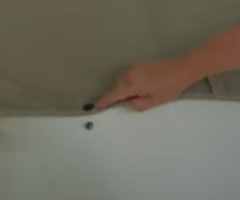 All flexible clear marine vinyl and canvas shrinks over time.
Keeping them snapped 100% of the time helps keep them stable longer, but this is not always practical.
These spacer zippers zip into the existing zippers and extend the enclosure panel 7/8" which helps the panel reach the original snaps once again. Read about EZ-Xtend Boat Zippers for help with annoying, shrinking boat enclosure.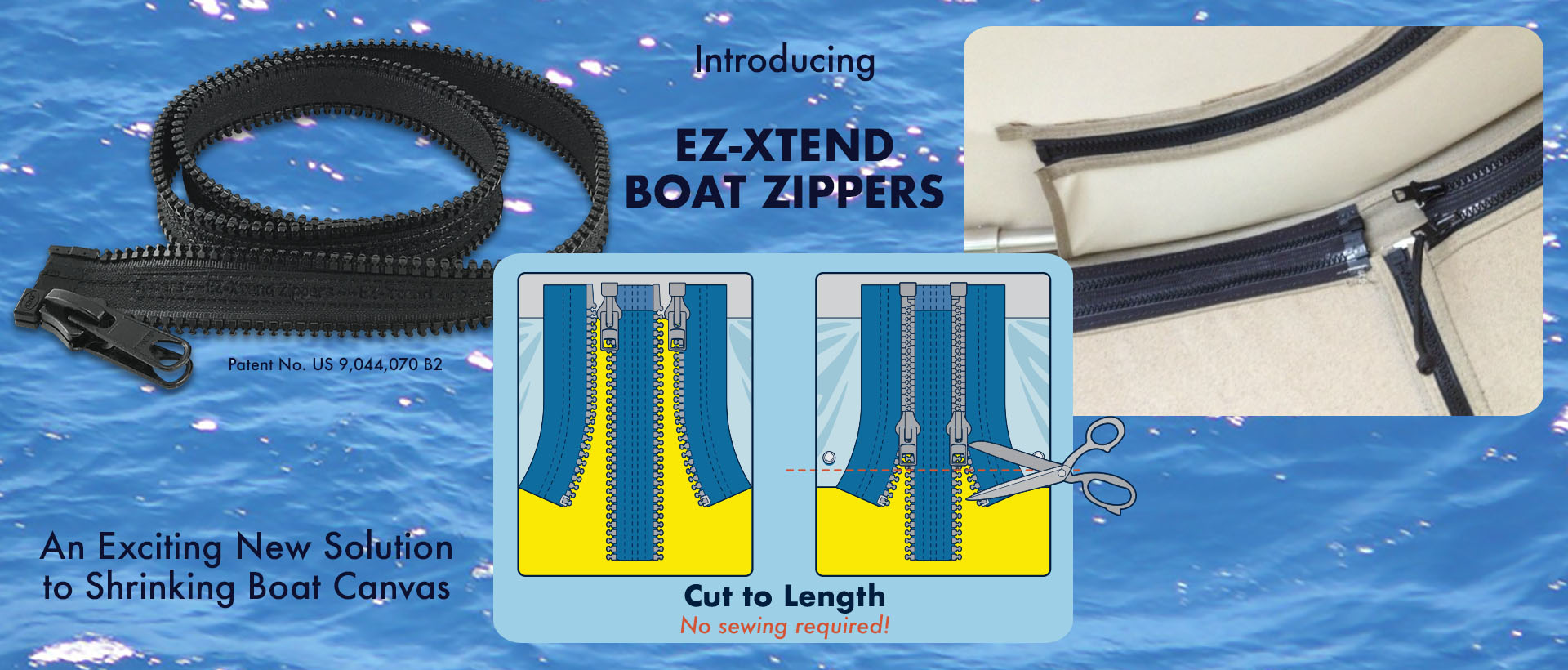 ---
 Our new and innovative solution for shrunken
and stressed zip-on boat enclosure panels:
EZ-Xtend Boat Zippers
---
Clear Marine Vinyls
---
See all our clear PVC vinyls in the store!
Clear marine vinyl is sometimes called isinglass (correct spelling), or it is sometimes incorrectly spelled as isenglass or eisenglass.
Cost, visibility, and storage are the main considerations with clear vinyl. Clear vinyls come in roll products or in sheet products, and sheet vinyl products come in both flexible and rigid styles.
Clear, marine vinyl on a roll is considered an economy product, and it helps keep the cost more manageable. However, I have yet to meet someone who says that they would choose roll goods over sheet goods. Lower visibility is probably the biggest factor in roll goods. The cost factor is what gives clear vinyl roll goods a solid place in the production of a boat enclosure. You'll especially see roll goods used on pontoon boat enclosures since they are so large and require more panels to enclose the boat. If you are having a pontoon boat enclosure made, then you should consider sheet products for the front panels since that adds visibility and roll good for the sides and aft.
Clear Vinyl Sheet products come in three product categories:

Basic, clear vinyl sheets available in 20, 30 and 40 gauges
Coated, clear vinyl sheets such as Strataglass® and O'Sea® which are available in 20, 30, 40 and 60 gauges
Semi-Rigid products such as polycarbonate (Lexan® and Makrolon®) and acrylic (Plexiglas®)
The most common plastic used is clear vinyl sheets.
The coated sheet vinyl is great for added UV protection and scratch resistance, but it is more expensive.

Semi-rigid products are used on larger vessels such as sport fishing boats and yachts. They don't roll up, and they require the room to swing up and fasten to the roof or slide sideways. Semi-rigid vinyls are the most expensive and are not offered by all shops due to manufacturing challenges.
---
The right snap
---
Boat Enclosures can have some boat snap challenges.
Everyone knows what your basic boat snap looks like, but sometimes basic boat snaps won't stay snapped under stress because of awkward angles or wind factors.
For example, an enclosure panel cannot drop straight down to the deck, turn a 45 degree angle, and be expected to stay snapped. Any pressure whatsoever will unsnap the button at this awkward angle.
Look at the picture below to get a feel for a proper snap angle.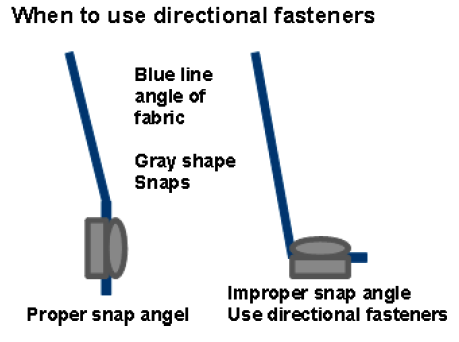 When basic boat snaps just won't do, you have to rely on directional fasteners.
What are they?
They are snaps that only come off in one direction, and they will hold the canvas under stress.
These are examples of directional fasteners
Click on the fasteners above to buy!

Check out our boat cover snaps web page for a more detailed discussion on boat cover snaps.
---
tricks for Boat enclosure Storage
---
Let's talk first about rolling up your panels for airflow. This is something everyone wants to do, but leaving them rolled up for extended periods of time is hard on your panels.

Never leave your panels rolled up if you are leaving the boat.

Water and dirt will become trapped between your layers of plastic, and it will burn, scratch, and fog your plastic. Another problem that develops with rolled up panels is sagging on the roll up straps. This is very hard on the plastic, and when creases develop in the plastic due to sagging, you run the risk of cracking the plastic when you unroll it, especially if it is cold.
A trick my customers use is rolling a noodle pool toy up with their plastic. The stiffness of the noodle helps keep the plastic from sagging. Don't forget to roll the plastic down when you leave the boat.
When you take your panels down for storage, if at all possible, lay them flat. Buy some old sheets at Goodwill, and sandwich the panels between them. This will help keep them from imprinting on each other. If you are storing them for the summer, clean your panels before storing, and always store completely dry.

If you can't store your boat enclosure panels flat due to space limitations, then lay the clean, dry panels between the sheets. Then roll them onto the noodles so they won't crease while stowed. If you unroll a creased panel in the fall and it is chilly, then you're very likely to crack the plastic.

Another trick my customers have reported good luck with is getting a large cardboard carpet roll and suspending it with rope high up in the garage. Then draping the panels over top of the roll. Don't forget the fabric between panels.
---
Cleaning and care for boat enclosure panels
---
Remove loose dirt and saltwater with a fresh water rinse and chamois cloth before using cleaners.
Use cleaners designed for clear vinyl such as:
...and remember to use these products with a clean, soft chamois cloth. 
To see our cleaners in the store click on the individual links above or our buy now button below!

Do not use Rain-x®, Coleman fuel®, or Pledge®.  Again, only use products designed for clear marine vinyl cleaning.  Imar® carries cleaner polish and protectant, and they are terrific products for cleaning clear vinyl but are pricey.
Treating your boat enclosures gently will go a long way in preserving and prolonging their life.
---
Is Water Penetrating Your Enclosure?
Do You Need A Water Tight Seal?
---
Xtreme Seal is your answer!  It works well to provide a water tight seal on all types of custom covers.  It has a flexible design and can be sewn or glued to most surfaces or materials.  This oil, solvent, and gas resistant product is made with the most advanced EPDM 1 rubber material available.  It forms a 3-point seal on most surfaces to keep moisture out and has also been Ozone and UV tested.  Snaps can be installed right through the middle of it!
Xtreme Seal is a trademark of Xtreme Seal LLC
| | |
| --- | --- |
| Xtreme Seal - Before Installation | Xtreme Seal - After Installation |

---
NEW!! Sunbrella Sunzip III #10 Marine Zippers
---
These NEW Sunbrella Sunzip III #10 marine zippers could be just the thing to help you deal with the harsh elements of boating.  Designed with that in mind, these zipper teeth are manufactured using a UV resistant resin.  These zippers are the VERY FIRST with zipper tape made from 100% Sunbrella Fabric, and also the VERY FIRST bleach cleanable, high performance marine zipper on the market.  
Sunbrella is a registered trademark if Glen Raven Inc    
IDEAL Fastener is a registered trademark of  IDEAL Fastener Corporation
Sunbrella Sunzip III Zippers

---
Do You Have a Question You Would Like to Ask About Boat Enclosures?
We'd like to help you find a solution! You just might be able to help someone else trying to solve the same problem. Please include your email, we may choose to contact you directly with an answer!
What Questions Have Other Visitors Asked?
Click below to see contributions from other visitors to this page...

---
Please come visit me at Cover Girl Marine Canvas & Upholstery to see some of our awesome work!