Bimini top tie down straps
Find answers
Plus
Buy the best Bimini straps Anywhere!

Highlights on Our Bimini Straps:

Bimini strap and webbing choices
How to install bimini top straps
How to adjust bimini top straps
How to make your own bimini top straps
Buy Your Replacement Bimini Top Straps and Components Here!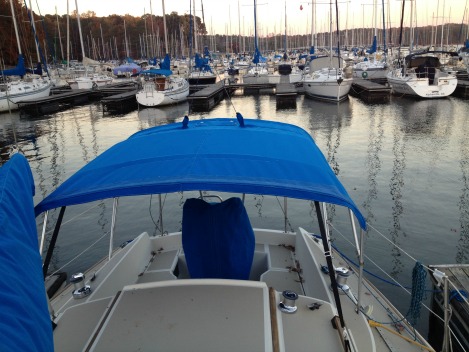 Photo Courtesy Cover Girl Canvas
---
  What Type of webbing is the best for bimini straps?   
| | |
| --- | --- |
| Bimini Top Strap Made With Heavy Duty 1" Polyester Webbing | Heavy Duty 1" Polyester Webbing |
The best In order of  UV longevity!
 Heavy Duty Polyester , Dacron is also a name of a polyester webbing (Best)

 Acrylic Sunbrella (Excellent UV, better than polyester, but not as tough as polyester, so slips   to the second position in this line up) - (Better)

 Nylon ( Good)

 Polypropylene (Poor)
High quality hardware is important too! 
Using a heavy duty snap hook is going to out perform a wire snap hook, but it's okay to use wire  snap hooks with smaller tops. 
| | |
| --- | --- |
| Heavy Duty Stainless Steel Snap Hook | Stainless Steel Wire Snap Hook |
Here are the other components you may need for making your own straps. 
| | | |
| --- | --- | --- |
| 1" Stainless Steel Adjuster Buckle | 1" Welded Stainless Steel D-ring | Stainless Steel Eye Straps |
How to install bimini top straps
There are 4 basic ways to install a bimini strap to a frame.
Here are some photos of the various ways this can be accomplished. 
 All of them perform well. 
Loop on Bimini Top Strap

The bimini top straps with loops are the style the majority of custom canvas shops use and this is done by creating a cutout in the bimini pocket to loop the strap around the frame.  The higher up location helps stabilize the strap from sliding sideways and places the location of applied tension higher on the frame, which can be helpful.  Doing so can provide a better stretch or tautness to the bimini cover.
---
| | |
| --- | --- |
| Bimini Strap Secured Using a Screw | Bimini Strap Secured Using an Eye strap |
---
Bimini Strap Attached Using a Standard Jaw Slide

This jaw slide with set screws requires the ability to slide up the frame leg from the bottom.  You might run into stubborn fittings when installing to it's proper location.  See the hinged jaw slide for a great alternative solution.

Hinged Jaw Slide

The hinged jaw slide is a 

valuable fitting that clamps around the

frame.  No need to move or remove other

fittings that can sometimes be old and

stubborn to remove.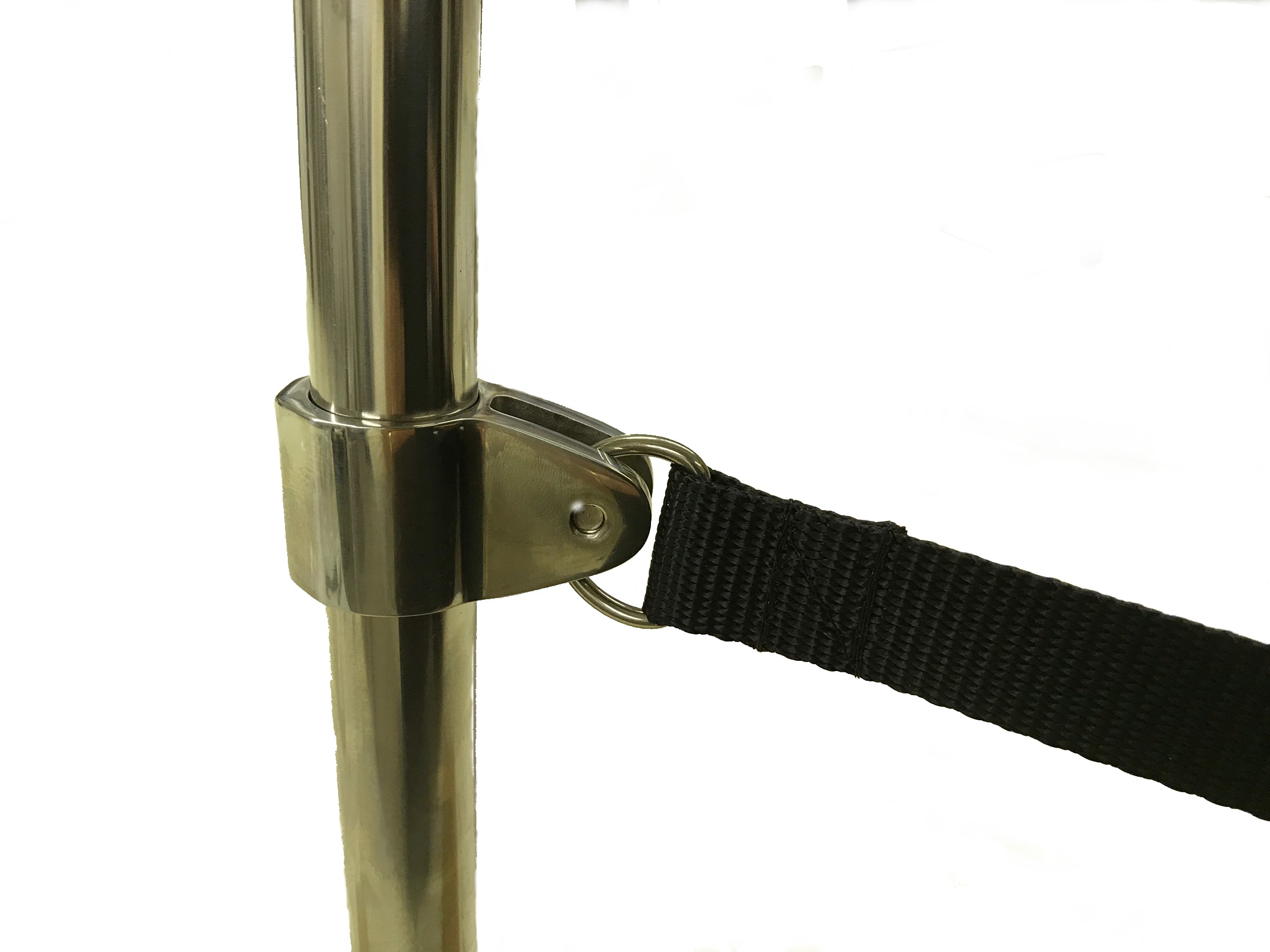 Finally,  a slight variation to the jaw slide attachment.   This strap utilizes a D-ring instead of a loop.  
---
How to adjust bimini top straps
Sometimes the obvious just isn't that obvious!
Here is a short video showing how to adjust a bimini straps.
---
How to  make Adjustable Webbing straps
Check out this helpful video showing you how we make bimini top straps.
---
I also like this quick release adjustable strap that Sailrite has created. 
I can see a lot of value for it as well for anyone needing the extra adjust-ability

---
Our Bimini Top Straps Replacements
| | |
| --- | --- |
| Single Snap Hook Bimini Top Strap | Double Snap Hook Bimini Top Strap |
The highest quality components available are used to make our bimini top straps.  West Marine can't hold a candle to our straps.   
We have both black and white bimini strap replacements in a variety of lengths.

Our adjustable short bimini top straps are 18" in length all the way up to our long bimini top straps at 96" in length and we have all sizes in between to cover your needs.  
Bimini top strap with double snap hook, also available in all sizes
Our bimini top replacement hold down straps are made with nothing but the best polyester heavy duty webbing and the same is true with our choice of stainless steel snap hooks with an unparalleled 5 year warranty.
---
Be Sure to Check Out All of Our EZ-Xtend Boat Zipper Products!!
EZ-Xtend Boat Zippers
EZ-Xtend Boat Track
EZ-Xtend Drip Shields
---
Please come visit me at Cover Girl Marine Canvas & Upholstery to see some of our awesome work!