Cheap Boat Covers  
Advice for your purchase!

Highlights
Boat Cover Suppliers for Cheap Boat Covers

Evaluating Fit, Thread, Stitching, Reinforcement 

Venting and Support Systems

Securing Your Boat Cover

DIY Straps

Boat Cover Material Choices
---
Cheap Boat Cover Suppliers
---
Here is a quick list of the big boat discount cover manufacturers. There are others, but these are some of the biggies.
Carver Industries®, Taylor Made Products®, Attwood® Boat Covers, Westland® Boat Covers, Shoretex Boat Covers and Eevelle Boat Covers
---
Evaluating Cheap Boat Cover Construction
---
People are always asking which cheap boat cover or discount boat cover is the best. 
It's actually a hard call to make because what makes a great boat cover for one person is not the same for another. 
I'm going to take a moment and misspell cheep boat cover, just to make sure that those searching for this spelling can find their way to this page.  It's a common mistake.   
Now let's look at the different construction elements of a cheap boat cover.
---
The Fit
---
In general, many manufacturers have what they call a custom fit cover.  This means that the boat cover you're getting has been made from a pattern taken off your model of boat and is designed to fit just your boat.  It will be your best fit of all boat covers and will have some added construction details that will make it superior in other ways.  It will also be your highest priced cheap boat cover.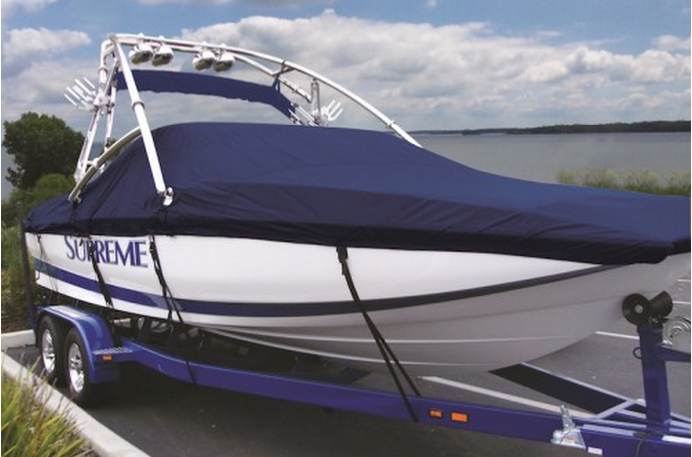 Carver's Custom Fit Boat Cover - Photo courtesy of Carver Boat Covers
---
Next is your semi-custom cover.  Its pattern will have been designed to fit the most popular hull styles and should be expected to fit pretty well on any boat with your hull style. 

Carver Style to Fit Boat Cover - Photo Courtesy of Carver Boat Covers
---
Lastly will be the universal fit cover.  This cover can be expected to fit a multitude of styles.  It will have a looser fit, and many of these have elastic in the hems and may need a bit more help keeping water out.  The cheap cover or discount cover price point will be at the low end.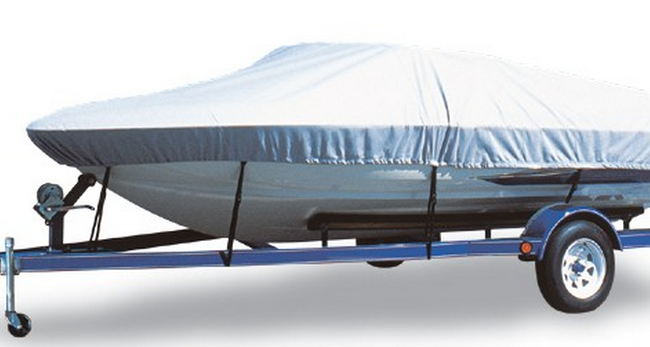 Carver Flex Fit Cover - Photo Courtesy of Carver Boat Cover
---
Thread
---
If you have read my marine thread page, you know that this is a super important feature on your new, cheap boat cover.  It's important that your new boat cover is stitched with a UV Polyester marine thread.  This is a bit tricky, because not all manufacturers reveal what type of thread they use. 
Taylor Mades Trailerite® boat covers are the first and only production boat cover that I am aware of that is stitched in Tenara® thread.  This is a lifetime thread you will never have to worry about. 
I am not a fan of nylon threads for any outdoor applications. 
If you've gotten to the point where your thread is gone on your cheap boat cover, you'll be looking for a shop to re-stitch your cover. Remember to ask the shop owner what kind of thread they use.  Visit our section on rotten marine thread to read about the "tug test" you should perform each year on your cover!
---
| | |
| --- | --- |
| | When shopping for boat covers, you may see the term "anti-wicking".  It means that when the thread is wet, it expands into the hole thus keeping water from dripping through the needle hole and eliminating wicking of the thread.  |
---
Stitching Used on Cheap Boat Covers
---
Lock Stitch - The stitch made by your typical industrial sewing machine and is used in production of many cheap boat covers.  This type of stitch uses thread coming from the top of the machine and from the bobbin.  It won't do a continuous unraveling like the chain stitch.
Chain Stitch – A series of loop stitches joined to form a chain. 
Overlock Stitch – This serge stitch seals the raw edge of the fabric on the inside and keeps the fabric from fraying
When buying a cheap boat cover look for double stitching on the join seams. 
I prefer lock stitch over chain stitch, because when a thread breaks on a chain stitch you run the risk of continuous unraveling.  Picture the top of a dog food bag and how if you pull it a certain way it unravels all the way across the bag. 
---
Reinforcements
---
The ideal boat cover has all the necessary reinforcements in place.  They should be sewn in and not glued in place.  Sunbrella, for example, needs a lot of reinforcement to prevent abrasion from sharp places on the boat.  In case you ever need to make repairs to your cheap boat cover, below are the supplies you will need!  You should also take a look at our boat cover repair advice page to learn more on repairs and hole patching. 

---
Vents
---
Boat covers need venting, especially in the south. Below are a couple of vent types you will see. Both allow circulation of air under your boat cover and cut down on mold and mildew. 
Plastic scoop sew-in style - can be sewn in anywhere to help air move underneath the cover.
Boat Cover Vent

---
Boat Vent 3 ® - Installed into a cover above an adjustable tent pole, thus allowing air to escape from the vent at the top of the tent pole.  No sewing needed, and it consists of a two part plastic vent that is screwed into the cover.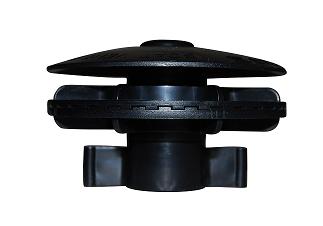 ---
Some of your discount boat covers will have a reinforcement patch in place for boat vents and some won't.  So pay close attention to your choices when ordering.  If given a choice, do choose the boat vent option.  You need the reinforcement patch for installing a boat vent since this will keep the vent from tearing out. 

---
Support Poles
---
All discount boat covers need support to keep water from pooling.

Ideally, you would have adjustable support poles in all of your key low spots.  Be sure you purchase these with your boat cover. 
Your boat cover should come with one of these three types of reinforcement for support poles:
1.  A reinforcement patch for installing a Boat Vent 3® which allows you to insert a support pole into the upside down receiver cup on the inside of the vent.
2.  A reinforcement patch with a grommet in the center of it for inserting a pole tip.
3.  A reinforcement patch with a snap installed in the inside center for snapping in a support pole.
As for the pole itself, just make sure it's adjustable.  I like the cam lock style support pole, but they aren't always available from boat cover manufacturers.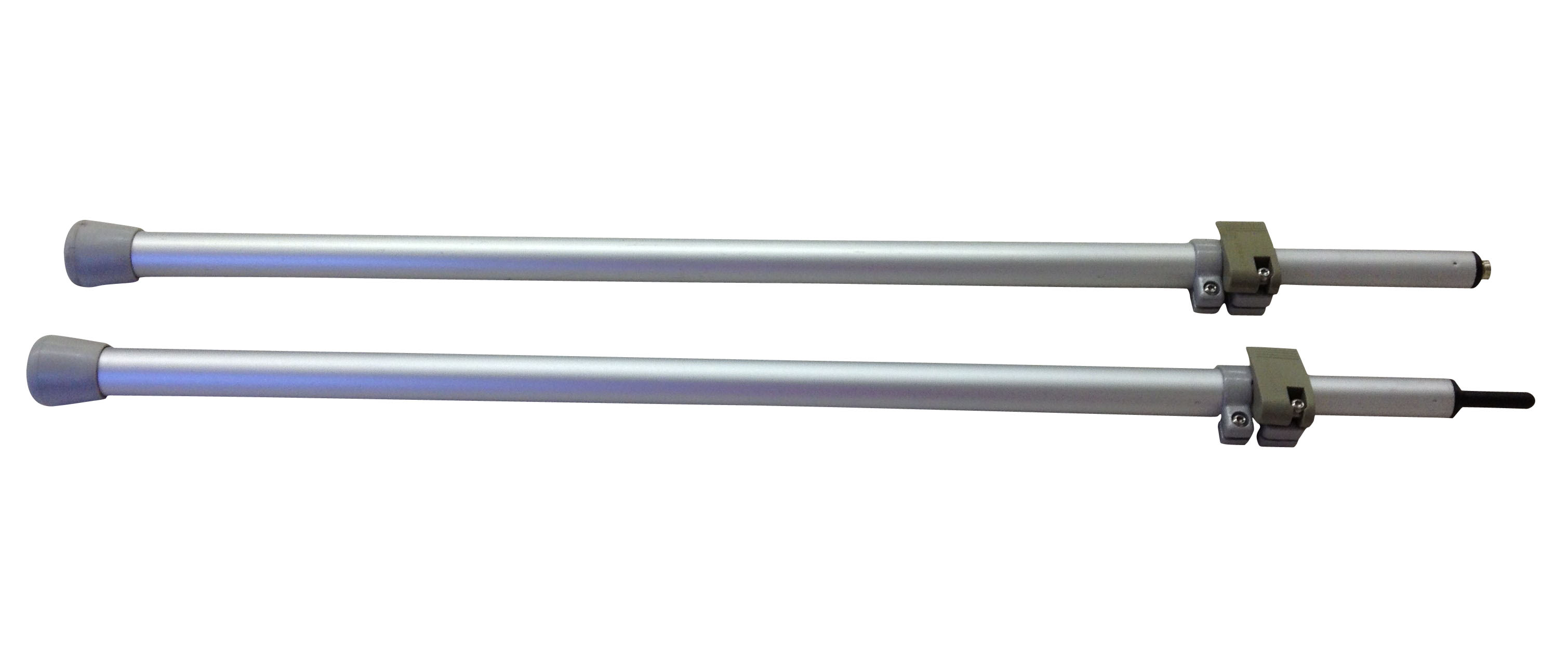 Cam Lock Support Poles

---
You also might like to be aware of these handy helpers.  They are pole bases.  They replace the typical crutch tip with a swiveling base that has a non-slip pad on the bottom and stays put while you put your boat cover on.  It's a great little helper.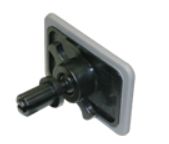 Pole Base

---
Other Types of Boat Support
---
Support Battens – Side to side bow slats either made from fiberglass or wood that create a curved tent structure.

Battens can make a quick effective watershed on your boat, but can be a pain to store on your boat while using the boat. Battens have been known to collapse if not high enough to keep the water from pooling.
Webbing Support Systems - Stem from a pole in the center of the boat with a cap on it.  From the cap, straps spider out to different connecting points on the boat creating a webbing support structure.  You would install the receiver points on the boat yourself, or use existing points such as cleats.
Webbing support systems are effective when done right.
This style can be a bit of a challenge to put into place and you will have a bunch of webbing to deal with and store.
---
Inside the hem
what's holding your cheap cover on?
---
Bungee or Shock Cord – Most often found on the universal boat covers and sometimes the semi-custom fit. 

Shock cords pull down and tension into place with minimal effort, but they stretch over time and may need to be tightened.
They can make it difficult to find the front of the cover and they don't secure the cover to the boat as tightly as rope.
Windstorm Boat Cover uses Alpine shock cord, which they claim loses strength slower than some other shock cords.
Rope is a great way to secure a boat cover to the boat.
You won't always know what type of rope you're getting.  You will most likely be getting nylon or polypropylene which may need replacing at some point.  Polyester is the best rope for your cheap boat cover. 
Our favorite is Neobraid. This braid will take years of sun and abuse without giving up. It will not kink, twist, or fray, and it also resists mold, oil, and stains.  For your average boat application, use either a #6 = 3/16" or a #8 = 1/4".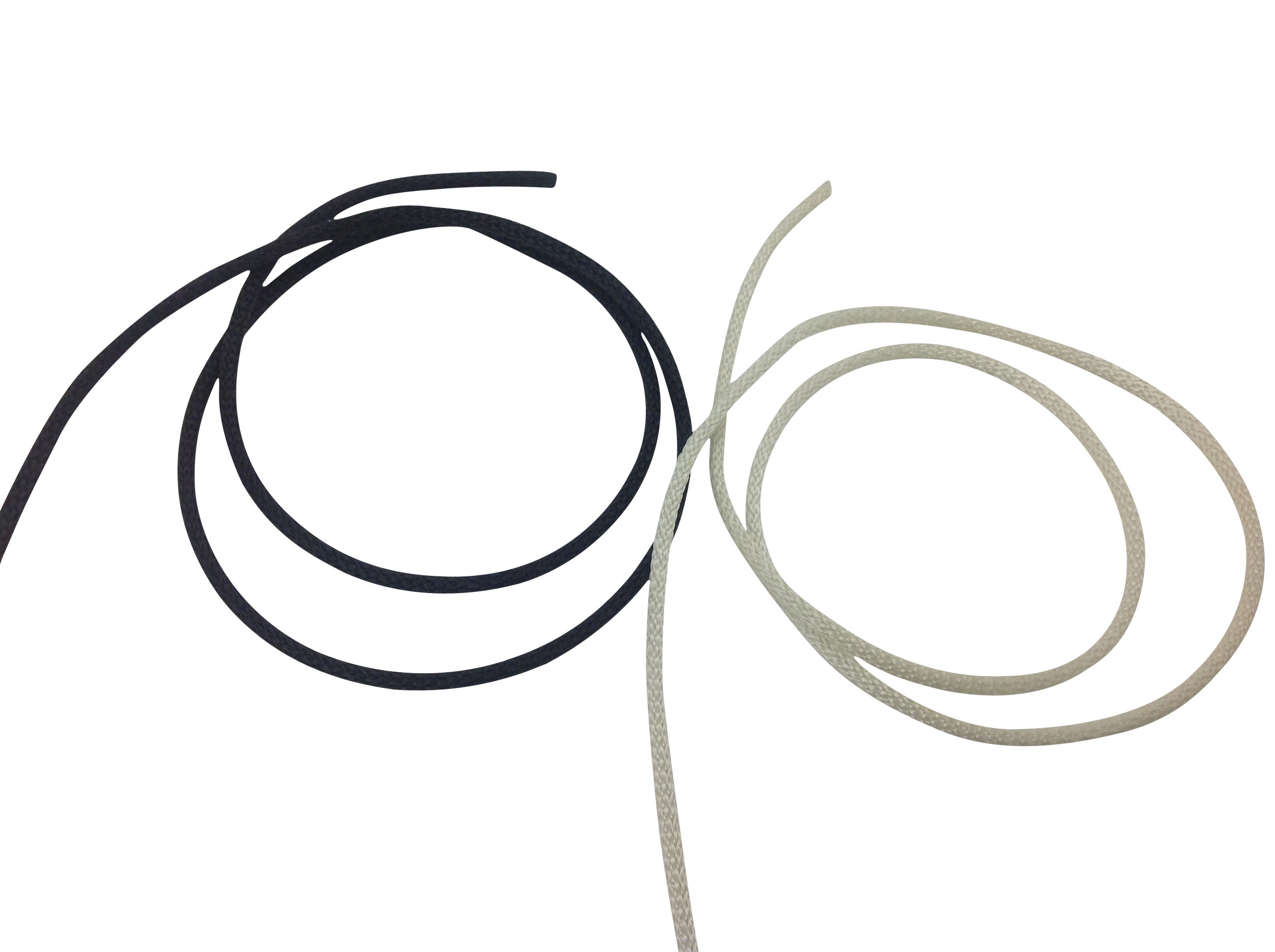 Neobraid

---
| | |
| --- | --- |
| | If your rope disintegrates, buy a 50' fish tape from Amazon and feed it into the hem.  Tie the new rope on and fish it through.  This is a great way to fix your rope.  |
---
Securing the boat cover to the trailer
---
Tie-down loops - In the boat cover is an area to pay attention to.  This is one of the big failure and complaint points.  Many cheap boat covers have little tiny polypropylene webbing loops.  A common complaint is getting the tie down straps through them.  If you're using rope, then no problem but a little more tricky to get the quick release straps through them.  Another problem is the polypropylene webbing, which sometimes disintegrates.  Avoid plastic D-rings when possible.

Tie downs - In general, boaters seem happier with quick release webbing tie downs for their boat covers than with rope.  Again, you will find that most manufacturers use polypropylene webbing for their straps.  This truthfully isn't my webbing of choice, but they can be replaced easily which really makes it a non-issue. Carver Industry includes them with their boat covers, but not all do.  They can be purchased separately.
Once again, polyester straps are what we recommend.  It is hard to find polyester straps online, so if you want them you would need to order them from us or another custom shop.   Boat Straps made with 1" webbing coupled with quick release buckles are easy to use and are a personal favorite. We always supply this type of tie down when we make custom covers. They are even better if they are completely removable from the boat cover. It makes life so much easier when they don't catch on the boat while handling your cover. 

What makes them different from any other strap on the web?

100% Heavy Duty Polyester
Lasts longer than any other strap out there! Guaranteed!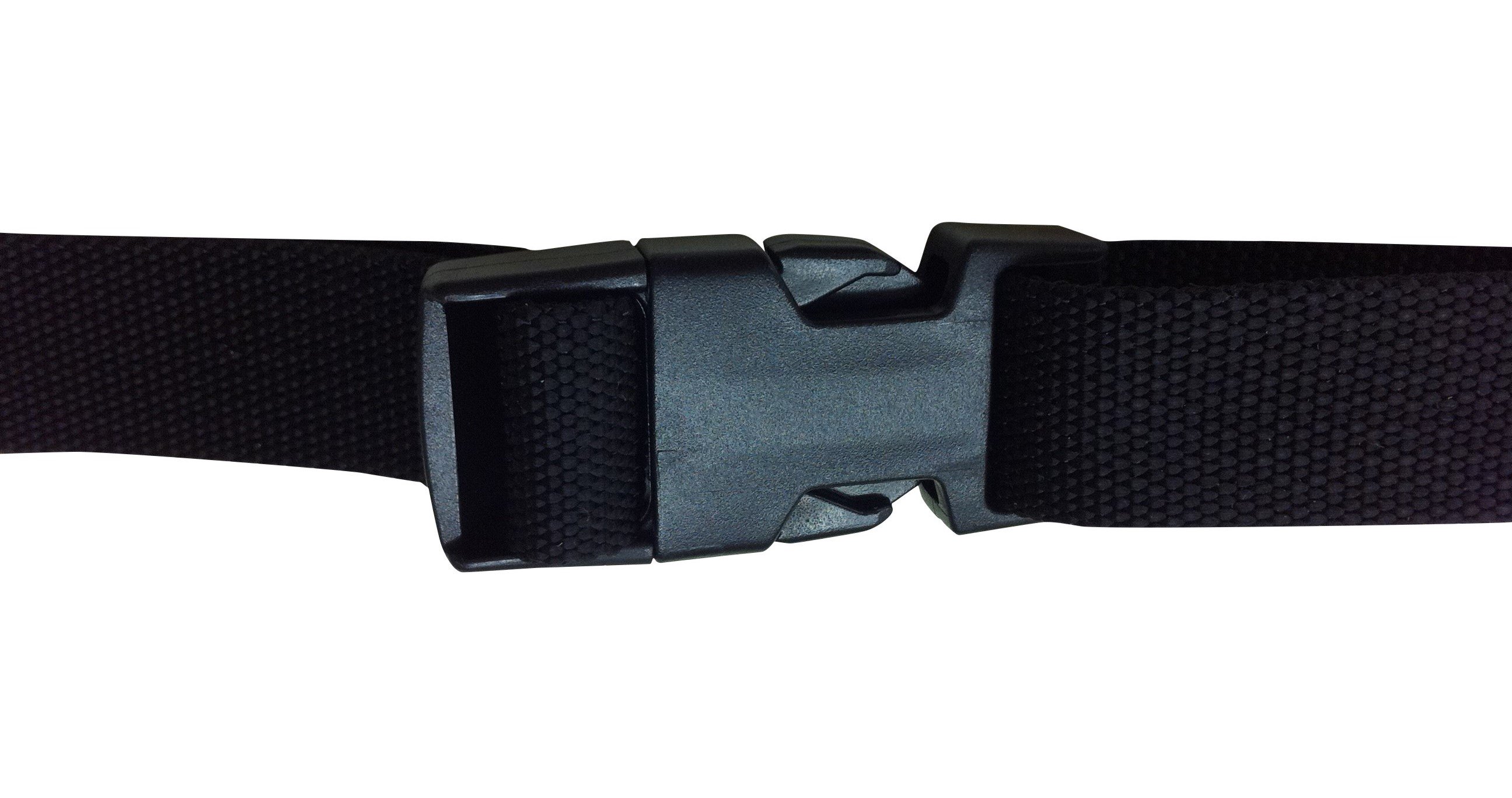 Heavy Duty Quick Release Straps

---
DIY Straps
---
If you prefer, you can make your own tie down straps. Here is a list of the supplies you will need:
| | |
| --- | --- |
| Heavy Duty Polyester Webbing Black | Heavy Duty Polyester Webbing White |

Quick Release Buckle

| | | |
| --- | --- | --- |
| 92 Polyester Thread 8 oz Available in Black and White | 138 Polyester Thread 1 lb Available in Black and White | Solarfix PTFE Lifetime Thread |
| | | |
---
Cheap Boat Cover Materials
Which is best?
---
This is the number one question I get asked.  Everyone wants to know what about sharkskin or what do I think of seal skin, etc.

There are basically breathable and non-breathable fabrics.  Acrylics, such as Sunbrella, breathe better than others. 
If you Google the fabric and find it only listed as a choice for a manufacturers boat covers, then they have had it made for them.  If you Google the fabric and find the manufacturer, then that fabric is available for everyone and you can find out more about the specs.
What I want you to pay attention to is the warranty.
Pick a boat cover with a fabric that has at least a 5-year warranty, period.  If you think you need breathability, then you may be better off with Sunbrella or similar breathable fabrics.
It really is as simple as that. Look for a long warranty.
For more extensive information about fabrics, please visit our boat cover material page.  You can also visit our store to make fabric purchases. 
---
Summary
---
In looking at these covers through the years, I find good qualities on all of them and bad qualities on all of them.  The main conclusion is if your budget doesn't allow you to have a custom cover built, or maybe there isn't a canvas shop nearby, then this is a good bet for you! 
---
Share photos of your cheap boat cover
Share a photo of your new cheap boat cover, show other boaters how it fits and what you like and don't like about it.
---
Be Sure to Check Out All of Our EZ-Xtend Boat Zipper Products!!
EZ-Xtend Boat Zippers
EZ-Xtend Boat Track
EZ-Xtend Drip Shields
---
Please come visit me at Cover Girl Marine Canvas & Upholstery to see some of our awesome work!