Buying a Used Walking Foot Sewing Machine?
key points to consider! 

What you'll learn about buying a used walking foot sewing machine . . .
 Important Features 

 Motor Types

 Popular Models

 Thread, bobbins and needles

 Sewing machine feet and attachments

 Basic maintenance and education

 Sam Sloan Our Sewing Machine Guy 

 Learn to sew marine canvas
---
| | |
| --- | --- |
| | Be sure to check out Sams awesome reconditioned sewing machine deals at the bottom of the page!  He is a trusted resource for used walking foot sewing machines! |
---



First and Foremost!


If you are sewing boat canvas, you must use

a compound feed walking foot machine.



---
most important features
---
       Buying a used walking foot sewing machine is a great investment.
       Once you own one, you will never regret your purchase!

---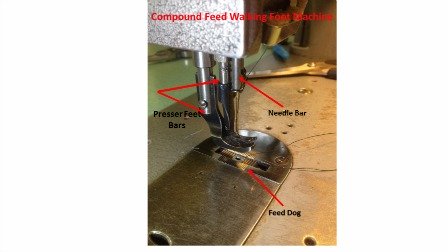 Compound walking foot machine parts
---
    The presser bar feet walk . . .   
There are two presser feet bars and a needle bar that work in conjunction with each other on a used walking foot sewing machine.

One bar is going up and one bar is going down.

At the same time, the feed dog is moving inside the base plate of the sewing machine. 

This combined motion moves the fabric through the sewing machine all by itself, greatly assisting in sewing heavy fabrics. 

---
must Haves For Your Sewing Machine
---
Your used walking foot sewing machine must have reverse . . . 
All upholstery and canvas is back stitched when you first start a row of stitching and when you end a row stitching. 

This keeps the thread from unraveling.  So reverse is a must. 
You must sew with the machine before buying . . .
Is it controllable?  When you push the pedal down, does it take off uncontrollably or can you go slowly, one stitch at time.

The reason this is so important is that an uncontrollable machine will need modifications to slow the stitching down if you want to produce clean and tidy work. 

It's not a huge deal if you know how to do the modifications, but a beginner might not be interested in installing a speed reducer pulley for use with a clutch motor (more on motors in a minute). 

Know how it sews before you buy it.  An exception would be a reputable online seller with a warranty (ask questions). 
You can also add a needle positioner to the machine . . .
A needle positioner causes the needle to always stop in the down position when you stop sewing.  

This makes it easy to turn and continue sewing without having the material shifting under the presser feet which requires you to move your hand to the fly wheel and assist in the action.

It's a time saver for professionals, but not as necessary for the hobbyist. 
---
If you're looking at a particular used walking foot sewing machine, make sure it was designed by the manufacturer to handle heavy materials.

An example would be a machine that was designed for manufacturing drapery instead of upholstery. They look very similar, but one model will be more powerful than the other.

A quick call to the manufacturer should allow you to get more information on the particular machine you are considering.
---
The Motor
---
Two types of motors most often seen on used walking foot sewing machines:
We won't go into detail here other than to let you know that the clutch style motor can sew ridiculously fast and be very hard to control.
This is why I mentioned earlier that an out of control sewing machine may need the addition of a speed reducer pulley for better control. 
Almost every stitcher we know prefers the servo motor.  Not only are they silent, but they have settings that can control the speed.
Many stitchers retrofit their sewing machine with servos after they buy them just for the pure joy of using one.  Most of the used industrial sewing machines will come with a clutch style.
Inspect the used walking foot sewing machine you are thinking of buying.  Look for damage or worn parts.  Tilt it back and look at the underside to check for any tell tail signs of abnormal wear. 
A used walking foot sewing machine can last for many, many years.  Find the right one and you will have a machine that will service your needs for many years to come.
| | |
| --- | --- |
| Clutch Style motor | Servo Style Motor |

---
| | |
| --- | --- |
| | Be aware of the electrical needs of the sewing machine motor you are buying.  Make sure you are buying 110V and not 220V.  Otherwise, you will be changing your motor or outfitting your house with a designated 220 outlet. |
---
---
Popular used industrial sewing machine brands
---
For hobbyists, beginners, and live aboard stitchers, a Sailrite might be a good fit.
Let me stop and say that I finally had a chance to sit down and sew on a Sailrite machine.  My personal feeling is there are some good reasons to own a Sailrite.
It's mobile, it's a space saver, and if you need both straight stitch and zigzag then a Sailrite could come in very handy.  A used Sailrite can also be less expensive depending on where you buy from.
Upon comparing the costs of both new and used Sailrite machines, we still came to the conclusion that you will be far happier with one of the machines we have listed below if you have room for it.  Based on the list below, you can purchase a good used walking foot sewing machine with table and motor included for $600.00 to $900.00 on craigslist or a bit higher from an online retailer.  Ease of use and quality of stitching will exceed a Sailrite. 
Here are a few popular brands and models used by the majority of professional marine fabricators. There are many more, but you can't go wrong with one of these. 
---
Thread, bobbins, and needles for your
Used walking foot sewing machine
---
Thread . . .

Boat canvas and upholstery take a tremendous beating from life spent outdoors, so you will need the right thread.  Now that you have found your ideal used walking foot sewing machine, you will be able to use the same thread the professionals use.  You will be using either a UV polyester thread or a lifetime gortex thread. 
The most desirable thread weight for the UV Polyester is 138.  This will get you 3-5 years depending on the strength of the sun in your area and time spent outdoors.
Some popular brand names are:
Sunguard

® 

Aqualon

® 

Ultra Dee

® 
The thread weight for Lifetime Thread will depend on the brand, but it will be equivalent to 92 or 138 thread.
Some popular names are:
---
Our Threads
---
| | | | |
| --- | --- | --- | --- |
| Solarfix Thread | Black and White Polyester V92 Thread | Black and White 138 Polyester Thread | Thread Cone Holder |
---
Bobbins . . .
You will have the choice of winding your own or purchasing pre-wound bobbins.  This is purely your choice.  We know professionals who do it both ways.
To wind your own bobbins, you will need two rolls of thread.  Otherwise, it's very inconvenient to wind a few bobbins and have to re-thread the machine over and over.
We wind our own, and it just seems natural to do so.  If you do go this route, you will need some extra metal bobbins for winding thread.  You can buy them online if you don't have a supplier.

Pre-wound/metal bobbin self winding
Needles . . .
Needles are a science all on their own.  I'll share with you the specific needles we use on our machines most of the time.  They are Groz-Beckert 135 x 17, 125/20, and 19 San5  Needles.
---
Sewing machine feet and attachments
---
  Your standard set of walking feet will most likely come with the machine.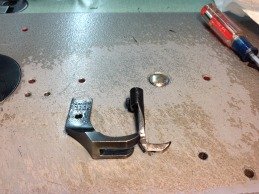 Standard Walking Feet
---
You might also find cording feet handy. They are used for upholstery and the most common size is 1/4".  Look for a set with cut away backs.  They make it easy to turn corners.  You will love them!
| | |
| --- | --- |
| Welt Cord Feet Side View | Welt Cord Feet Front View |
---
Another nice attachment is the zipper foot.  On this attachment, you will notice that the left side of the foot is cut away.  This allows you to get closer to the zipper.
Zipper Feet
---
You may want to have a binding attachment.  Most fabricators use either ¾" or 1".  You will be happy with a 1" binder as it captures the edge of the fabric well and should be easy for you to use. You will need to look at your machine and its attachment points.  Most machines will accept the style pictured below.
---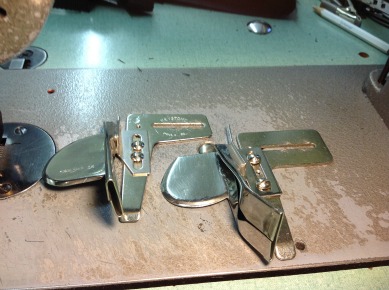 Binding Attachments
---
| | |
| --- | --- |
| | Tip - When purchasing binding for your projects, buy Sunbrella binding cut on a bias.  It sews around curves better than straight cut binding. |
---

---
Basic Maintenance of walking foot sewing machine
---
Oiling and cleaning your used walking foot sewing machine is paramount, do this often to keep your parts from wearing out prematurely.  We recommend using sewing machine oil specifically. 
If your machine comes with the manual, you will have information on oiling the machine from top to bottom.  If you don't have a manual, make that your first priority.  You shouldn't have any problem finding a manual online or a reproduction of it. 
When threading your machine, make sure your thread is well seated and is threaded correctly.  Change the needle, make sure it is facing the correct way, and make sure it is pushed all the way up into the needle bar as far as it will go.
Common, easily fixed problems that will crop up on you with industrial sewing machines:
Thread tension – Get to know the tension on your machine.  Test the fabric before you start your project.  This will help you get your tension right before you start sewing.

Thread fraying – Check the feed dog.  Over time, the needle hole in the feed dog can become rough.  Usually this happens from a bending needle accidentally hitting it.  This metal abrasion is one of the leading causes of thread fraying.  Either replace the feed dog or get some abrasive cord and sand the hole smooth. 
---
Our Sewing machine go to Guy
Sam Sloan at Sloan Machinery 
---
I'd like to share a special contact with you. Sam Sloan is a trusted source for many in the industry.  He is a great go to guy for everything involving sewing machines, sewing accessories, and all attachments. Sam does business with both industry professionals and retail customers, so he is a wonderful resource to have.  
Sams Current Special Deals - Sam has several reconditioned Juki LU-563 used walking foot sewing machines.  These machines come with a brand new table and a servo motor for 1200.00.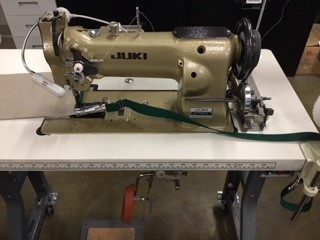 Juki LU 563
Sam's Juki LU 563 is a reconditioned s machine with a brand new table, a servo motor and the binder is a 1" dedicated binder for marine carpet. 
As pictured 1665.00 Complete
Without Binder 1200.00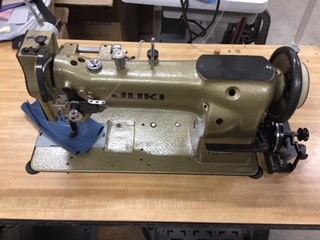 Juki LU 563
This Juki LU 563 includes a new table and a servo motor. 
1200.00
Sam has several of these reliable machines for sale!
---
Most of all, have fun and sew your hearts out! 
Being able to repair and build your own canvas and upholstery projects brings great satisfaction.  
---
---
Be Sure to Check Out All of Our EZ-Xtend Boat Zipper Products!!
EZ-Xtend Boat Zippers
EZ-Xtend Boat Track
EZ-Xtend Drip Shields
---
Please come visit me at Cover Girl Marine Canvas & Upholstery to see some of our awesome work!