Is Pontoon Boat Restoration in Your Future?
 Flooring Choices & What to Expect  

Highlights in Pontoon Boat Restoration:
With pontoon boats being so popular, it makes sense that pontoon boat restoration will at some point become an important subject.  For many years, carpet was the popular choice, and really the only choice.  If you have a pontoon boat with carpet, you've most likely experienced a great deal of mold and fungal growth, and possibly even a breakdown of the fibers resulting in tears and exposure of the wood beneath.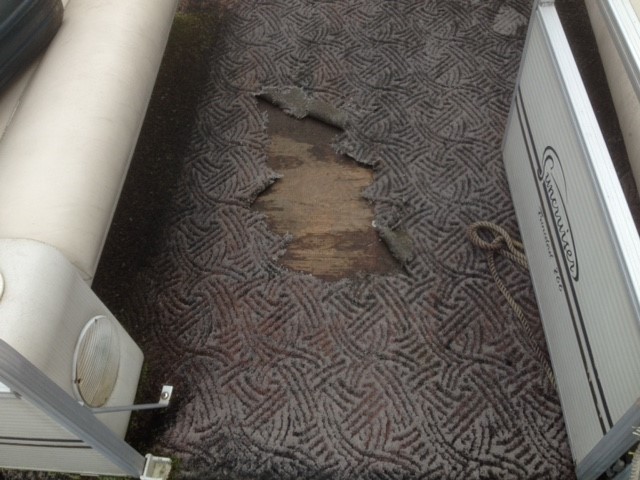 ---
preserving your existing carpet
---
You can help prevent a pontoon boat restoration of your carpet by keeping it clean and using 303 Protectant® a couple of times each year. 

303 Protectant® product inhibits mold growth by providing a barrier on your carpet that inhibits dirt from sticking to it.  Without dirt, the mold has nothing to grow on. 
303 Protectant® also provides protection against the sun, and will prolong the life and appearance of your carpet.  So remember to be diligent in keeping up with these bi-annual treatments on your carpet.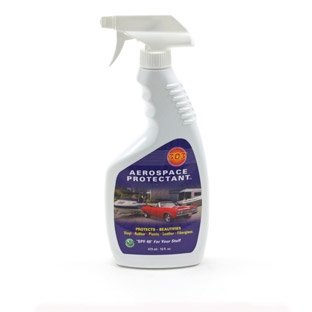 ---
If your upcoming pontoon boat restoration plans include replacing your carpet with carpet again, we would recommend using polyester carpet for its strong UV properties. 
The most common carpet weights range from 20 – 40 oz.  In the past, we primarily used the 40 oz carpet for its longevity.  However, through experience, we found that the 40 oz carpet didn't dry fast enough which ultimately led more quickly to mold and wood rot.  With this in mind, we are inclined to suggest using the 20 oz carpet even though it won't last as long. 
You will also have the style choices of loop or pile carpeting.  Both of these are fine, but fishermen may appreciate the pile carpeting since the loop style is prone to fish hook snags and this can create significant pulls or runs in your carpet ultimately ruining its appearance. 
---
Pontoon Flooring Options
---
Although carpet is still a contender for pontoon boat flooring, it's not as popular as it once was. 
Primarily because of the issues we've just discussed, your existing flooring is going to wear out at some point.  Maybe you're at that point where you are considering replacing your carpet.  Before we discuss this further, let me say that regardless of the flooring you choose, you must first strip everything from your boat in preparation for your new flooring. There is no short cut!  Everything has to go, including the fencing and edge rails, so that you can prep the boat properly.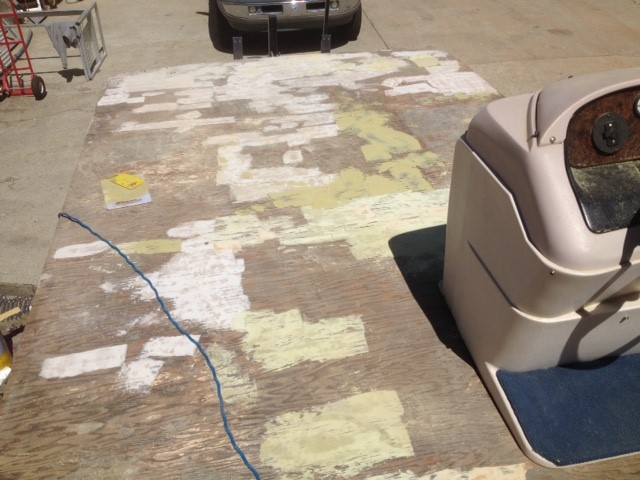 Just remember to take a lot of pictures before you get started and you can always refer back to them as you work through this process.  Once you've taken your pictures, go for it!  It's not that difficult!

---
Flooring Options for Your Pontoon Boat Restoration
---
With our current busy lifestyles, most of us would prefer a lower maintenance flooring option to take the place of our old flooring.  A couple of new contenders are storming the market and overtaking the popularity of carpeting.  Listed below are those alternatives along with some important things we think you should know about each one.
---
Roll on Pontoon Flooring
---
This style involves paint that is applied with a roller brush to your floor which creates an effective economical flooring for pontoon boat restoration.  Once furniture and fencing has been removed from your boat, you will need to sand the entire surface to remove the glue and even things out.  Inspect your wood surface for any rot, and if any is found you will need to fill in those areas with fiberglass bondo or similar filler.  Once wood is filled and dried, be sure to sand again to even out the surface. It's a reasonable choice if you are hard on your boat and don't want to sink too much money into it. 
Pros – This would be  a cheap pontoon flooring and easy to accomplish process. 
Cons – Please do be aware that this style tends to show more blemishes in the wood.  You will be able to see joints in the wood and other divots fairly easily. 
---
Pontoon Flooring Vinyl
---
Heavy Duty 80 oz vinyl flooring is next on our list.  We use this product frequently in our area. 

We have found it to be economical and tough, and it also looks great.  Marideck marine flooring comes in an 8' 6" wide size which covers the width most current boat models with the exception of a couple of wide body boats, so there should be no seams to worry about.  It's available in cream and light gray, and comes with a 2 year limited warranty.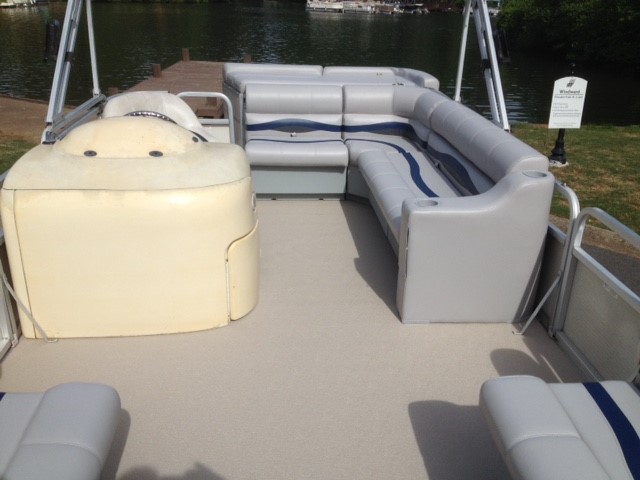 Pros – Easy to install and very easy to keep clean.  Still requires the same floor prep mentioned earlier.  Pebble grain provides good non-skid surface and lasts a very long time.  Cool on your feet in the summer time and dries quickly.  No wonder vinyl floors have become more popular than carpet. 
Cons – Not many cons.  The only thing we have noticed during the aging process is a bit of bleached out effect in the divots of the pebble grain.  This could possibly be avoided with 303 Protectant® and some good boat maintenance.
---
Supreme Pontoon Flooring Vinyl

---
North River Limited Supreme Vinyl™ Flooring is permanently bonded to SupremeBac™ high density backing. This high end flooring is able to withstand commercial grade traffic circumstances. Great for both outdoor and indoor use, it is a wonderful flooring for your pontoon floor or boat deck and is also perfect for RVs, outdoor spaces, patios, and area rugs. This premium vinyl flooring comes with an extensive color line and has a softer, quieter step that is the result of its felt cushion style backing. It's quick dry, cool touch, and water block technologies make it a leader in vinyl flooring. This easy to clean flooring is also UV stable, antimicrobial, mold and mildew resistant, fade resistant, and comes with a 10 year limited warranty. You can't ask for more than that! The floor prep of your pontoon boat is handled in the same manner as we have described earlier when preparing to replace.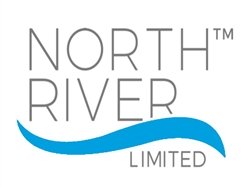 Pros -  Easy to clean, easy to install, able to withstand heavy traffic, can be used outdoors or indoors, great warranty. Currently the lowest cost woven vinyl available. Definitely one to consider in your pontoon boat restoration.
Cons - None
---
Woven Vinyl pontoon Flooring
---
Luxury Woven Vinyl™ Flooring made by Infinity has a frothed closed cell foam backing and is your high end choice.  This product has taken the boat flooring industry by storm.  It's not only becoming the top choice for pontoon boat manufacturers for re-decking pontoon boats, but is also being used in other recreational industries such as the RV industry.  Infinity has an amazing pallet of colors and textures that make everything surrounding it look better.  The padding on the back side is soothing to the feet and helpful to the back.  They even have patterns that look just like teak, along with a new pallet of textures that reflect nature.  It's highly anti-microbial, as well as sun, fade, and dirt resistant, and comes with a 5 year limited warranty.  If your budget can handle the price tag on this product, you will love it!  The floor prep of your pontoon boat is handled in the same manner as we have described earlier when preparing to replace.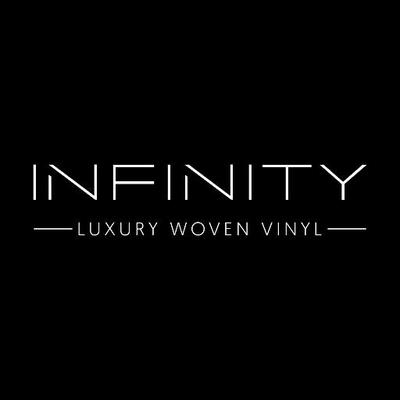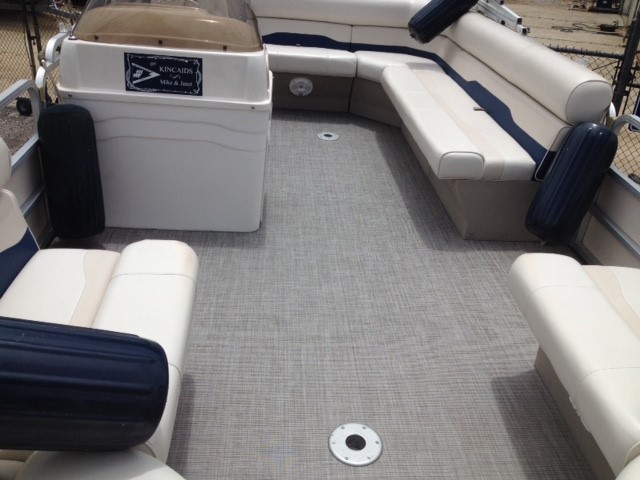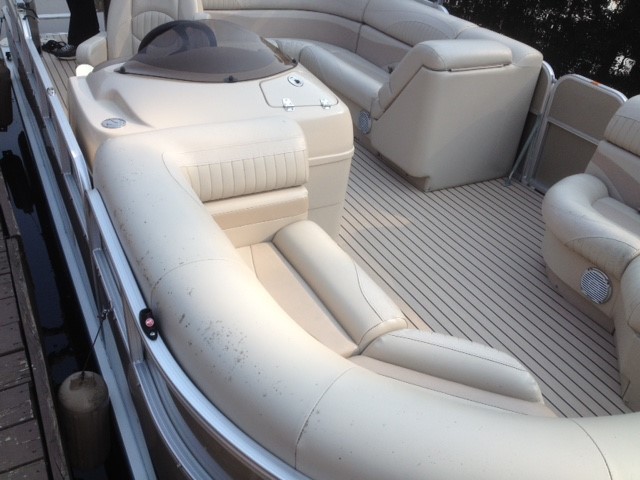 Pontoon Boat Restoration Photos
Pros – Easy to put down with adhesive, but you must be careful since it comes rolled with the face of the flooring facing outward and cannot be rolled with the flooring facing inward without risking damage. 
The foam backing is closed cell foam, so it cannot absorb water and it actually floats.  It is recyclable, highly flame resistant, and will extinguish itself.  Very easy to clean. 
Cons – We don't have much to add in this area.  Darker colors tend to heat up quicker, so consider your bare feet when choosing your color.  Price may not match your budget.
Although we are a big fan and use Infinity flooring, there is also Compass flooring made by Spradling.  The backing on the compass flooring is more of a felt material with urethane foam.  The color pallet is limited compared to infinity. 
You will do just fine with your pontoon flooring replacement.  Take lots of pictures of your pontoon boat restoration and go for it!  

---
---
Be Sure to Check Out All of Our EZ-Xtend Boat Zipper Products!!
EZ-Xtend Boat Zippers
EZ-Xtend Boat Track
EZ-Xtend Drip Shields
---
Please come visit me at Cover Girl Marine Canvas & Upholstery to see some of our awesome work!