what can i do for a smile face window water is leaking threw the ziper at the bottom
by tim,
(michigian)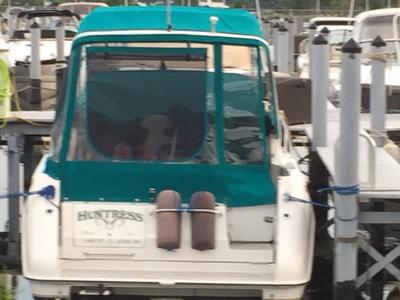 I made a new camper top for my boat for the first time.
I put smile face screens in the back and the 2 aft crts,screen is sewed in on the out side and the windows un zip from the inside an roll up. The problem i have is that when it rains i think the water builds up and leaks threw the zipper since their is a pocket from where the glass was cut for the window since i sewed every thing together then cut the glass so their is like a 1/4 to 1/2 inch pocket for the water to fill up so i believe it is come threw the zipper. do you think if i removed some stiches in the center and cut the glass down a little more to try an let the water drain thru the bottom of the screen or is their something you can put on zippers to seal them better.
thanks Tim

Hi Tim,
There are a few things you can try.
1. You can take off the zipper and insert 1/4" double sided sticky tape, then resew the zipper on. This will stop water from running down the between the glass and the zipper. However, this can be unsightly if seen from the outside.
2. You can remove the zipper, tape with doublesided sticky, then use Paskals G-lock zipper for an extremely water resistant zipper.
3. You can install a zipper flap on your boat enclosure. This will shed the water over the zipper and also keep it out.
Sorry for the delay I have tried to answer this question 3 times and it keeps disappearing.
Join in and write your own page! It's easy to do. How? Simply click here to return to Boat Enclosure Question and Answer Discussion.
---
Be Sure to Check Out All of Our EZ-Xtend Boat Zipper Products!!
EZ-Xtend Boat Zippers
EZ-Xtend Boat Track
EZ-Xtend Drip Shields
---
Please come visit me at Cover Girl Marine Canvas & Upholstery to see some of our awesome work!