Marine Zippers Giving you Trouble?

Repair Solutions To Lesson Your Frustrations
Highlights
Manufacturer of marine zippers and warranties
Zipper sizes
Zipper terminology
Repair issues and tips
Order Marine Zippers here!
Ask a question? Need an answer? Do it here!
In the US there are three big zipper manufacturers that are used on boat cover applications
In order of popularity:
YKK- UV resistant zippers (most common) but has no warranty
Lenzip- UV resistant zippers are the only zippers available that offer a lifetime warranty. They also YKK compatible.
RiRi- UV resistant zippers with a five-year warranty. RiRi zipper is not YKK compatible. RiRi marine zippers are almost not available in the US and I suspect will be gone before long.
Marine zippers have been a source of frustration for boat owners for a long time. After time exposed to the sun's UV rays, they begin to breakdown. They get chalky and become brittle. They eventually lose their teeth, or the teeth begin pulling apart. Another big complaint is the zipper slider.
Are there different sizes? Yes, there are, and it's important to know which size you have and which size you need to request if you are having custom boat covers built for you.
The most common sizes of marine zippers used in the industry are #5, #8, and #10.
In my shop we use YKK #10, and Lenzip #10. 
I keep #8 YKK Marine zippers for replacements on factory manufactured boat canvas. This is because many boat canvas manufacturers use them. If I had a choice, I would never use a #8 marine zipper.  My thinking is why go smaller when bigger is available. 
How do you know if you have #8 or a #10 zipper?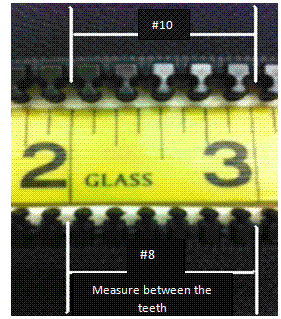 Follow the method above to figure out what size zipper you have
IMPORTANT: Please measure accurately before ordering!
Please don't guess, #8 and #10 look very similar.
Counting your teeth per inch will give you the right information when ordering.
---
Here is a picture of a separating marine zipper and the proper terminology starting with #2.
Separating means that the zipper unzips and the two sides completely separate from one another.

2. The #10 Separating Marine zipper
3. Insert pin
4. Retaining box
5. Box pin
6. Teeth Elements
7. Zipper tape
8. Zipper slider unit

Below is a list of the things that are most likely to fail on a marine zipper, and what to do about them
Tip: Determine your zipper size (see what size zipper do I have)shown above, and keep a dozen extra metal zipper slider and stainless steel crimp-on zipper stops on your boat for repairs. In salt water boaters, replace the pulls once a year. Stainless steel zipper pulls are on the market for salt water boaters along, and they are worth the price since you can keep them for life and can put them on all future boat zippers you may have. Another nice add-on marine zipper option is a lanyard zipper pull. This cord attachment adds additional length and gives more to grab and pull the zipper up and down with.
If the retaining box breaks off.
Sorry there is no quick fix, replace the zipper.
Teeth on each half of the zipper separate and will no longer hold together. Check your zipper teeth for extreme degradation.
If you have plastic zipper sliders, try replacing them with metal zipper sliders. Vislon plastic zipper sliders weaken, and once that begins, they won't push the teeth together.
Preventative maintenance helps protect your teeth. Iosso makes a product called E-Z Snap Lubricant, and it is designed for use on snaps and zippers. Keep in mind, if there is substantial degradation on your zipper teeth, it does make the degraded teeth slippery. This can facilitate the failure of the locking bond between the two sides of the zipper teeth. This is especially so, in a load bearing situation, such as zippers for bimini tops. So if you use E-Z Snap Lubricant, it is best to use it from the beginning to slow down the deterioration and not after substantial deterioration has begun. Try wax based products for older zippers, such as; Bees Knees.  Bees Knees is great for new zippers too. 
Run your thumb across the zipper teeth – are the teeth falling off after applying a pressure touch? Is your thumb covered with what looks like white or black chalk? A little chalkiness is normal, a lot is a sign that the zippers are kaput and need to be replaced.
Stuck zipper slider
If you have a stuck zipper slider unit because of salt corrosion or age, try WD-40 and a hair dryer. Next, since by now you have several zipper pull replacements already on your boat, you can try prying open the zipper pull very carefully so not to break the teeth using a wide flat head screw driver and tapping it between the edge of the pull from the side and forcing the pull open enough to free the teeth. This takes time and patience and you can still break the teeth, but sometimes it works. If that doesn't free it, or you break a tooth anyway while removing the pull, then you might try using EZ-Xtend Boat Zippers for a quick repair or replace the zipper.
Marine zipper strain caused by material shrinkage
As your boat canvas ages, it begins to shrink. The more strain on your zippers, the more likely the teeth will pop open. This is the perfect time to try EZ-Xtend Boat Zippers as a spacer zipper to relieve the pressure. If possible, use EZ-Xtend Boat Zippers to relieve the pressure before zipper failure. They can be used vertically and horizontally as spacers between existing zippers. Installing EZ-Xtend boat zippers will help extend the life of your boat canvas and boat enclosures.
Zipper stop fails and slider falls off the bottom of the zipper.
Canvas shops use all kinds of ways to stop the slider from coming off the bottom a zipper, and some of them are not so great. Since you may have reason to replace a zipper pull anyway, you will want a supply of stainless steel crimp-on zipper stops on board. The #10 zipper stops will work on #8 zippers as well. Keep a few handy for repairs.
---
Order Your Separating Vislon Marine Zippers Here!
Please Read Before ordering zippers
The marine zippers we sell are the same zippers we use in our shop, and are shown on this page. They are made for an outdoor environment. 
The zipper slider that comes with our zippers is metal and has double locking pulls, that just means they won't open by themselves.
We aren't big fans of plastic sliders, but we understand that not every boater feels this way.  If you would prefer a plastic slider, we are happy to send you one with your zipper order to swap out the metal slider that comes with it. The bonus is you have an extra metal slider on hand.  You will find a text box below when placing your order to indicate your preference. 
#8 Zippers are only available with metal sliders.
A stainless steel zipper stop is sent with the purchase of every zipper.
Don't forget - Know what size zippers you have before ordering, you can find that information by scrolling up this page. If you are unsure, request a sample from our "contact us" page.
In our shop we carry common sizes of zipper that cover every boaters needs, so order the size longer than the actual length you need. They are easy to cut down. 
---
Order your zipper sliders here!
Please Read Before ordering sliders
Zippers sliders should be kept handy on boats, because the metal corrodes and the plastic sliders weaken with age break or get lost. In a salt water environment the metal sliders should be swapped out yearly. 
The #10 sliders are available in stainless steel, metal or plastic with locking double pulls. 
Sliders for #8 zippers are not available in plastic.
All metal and plastic sliders are sold in multiples of five.
Stainless Steel sliders are available in pairs.
If you have a slider with 10c stamped on it, you need coil sliders.
240" only available in #10 size.
Order stainless steel crimp on zipper stops separately. 
---
Buy your stainless steel crimp on zipper stops here!
Stainless steel zipper stops were designed for #10 zippers, but will work for #8 zippers too.
They crimp on the last tooth of the slider side of the zipper as seen in the photo earlier on this page.
Zipper stops are sold in multiples of ten - $2.00
---
Do You Have a Question You Would Like to Ask About EZ-Xtend Boat Zippers or Marine Zippers?
We'd like to help you find a solution! You just might be able to help someone else trying to solve the same problem. If your question just requires a yes or no answer, please ask it from our contact us page.
What Questions Have Other Visitors Asked?
Click below to see contributions from other visitors to this page...

Marine grade zipper
Hello, My name is Debora and I am making a sail cover and need to order a #10 seperating zipper but, I need the pull to be stainless steal and I need it …
Zipper for my Stack Pack
I am looking for 195 inch very strong zipper for the stack Pack on my sailboat and that protects the main sail once doused. I have replaced it twice already …
I have a Sun Tracker bimini boot and the damaged zipper is 48" long. Can I cut a 60" size #8 zipper down to 48" or do you sell 48" zippers ?
I have a Sun Tracker bimini boot and the damaged zipper is 48" long. Can I cut a 60" size #8 zipper down to 48" or do you sell 48" zippers ? Hi Ron, …
How can I sew a zipper?
Do I need a special sewing machine and a special sewing thread? Hi Rudy, Let's first talk about the sewing machine. If you already have a sewing machine, …
Bimini Zipper Problems
The zippers on my bimini top (2000 Regal Commodore 2460)are shot - corroded. The slides are jammed and now broken. I tried to free-up using white vinegar …
Zipper Stop Removal
I want to replace my YKK #10 aluminum sliders with stainless steel sliders. Is there a tool or a trick that will remove the stop from the zipper without …
Retainer box
I have a 2004 jeep wrangler and need a replacement retainer box for a #10 zipper. Any idea on where to purchase the retainer box? Justin, Retainer …
Zipper for a Bimini top, black, 24 inches
I need a zipper that has two sliders that will separate to allow a cable through then close around the cable and not slip, # 10 marine grade. Thanks …
zipper is in perfect condition the retainer box came off can this be replaced
retainer box came off the zipper is in perfect shape except the retainer box can this be replaced. How do this stay on in the first place. thanks Hi …
What is best way to lubricate a plastic zipper?
To lubricate a plastic zipper on a boat canvas. Hi Richard, That answer we have found to be a little tricky. I think it really depends on how old …
If the retaining box breaks can it be replaced?
The retaining box fell off the zipper and i was wondering if just the box could be replaced? Hi Don, No, the retaining box cannot be replaced and is …
Where are you located in South Florida?
Zipper replacement help. Hi Kevin, I am in Buford GA. There is a nifty fabricator locator online that can be found here. http://marinecanvas.com/ …
Can you supply zippers to an address in the United Kingdom?
Replacement zips on yacht awnings. Hi Steve, It shouldn't be a problem to send zippers to the UK. How many are you looking for? The easiest way would …
do you supply open ended zippers in excess of 12 mtr
i am making a roller genoa sock for which i need the zip.size 8 shold do Possibly, most genoa socks have ropes coming out of the sock at some point …
Do you have 36" white Riri #8 zippers ?
Building an enclosure for a boat using pieces build previously with Riri zippers. I thought this would be an easy request, but my normal supplier is …
Hi, Need 2 very long, havy duty zippers, 28 feet long,
Hi, Need 2 very long, havy duty zippers, 28 feet long, with stainless slider, for my jib sail and cover for it. Could you help me with that? Please …
Are these sliders compatable with riri? #10 marine
Replacement slider for riri. No, riri are different than any other slider. I do have a few of those in white. You can order the ykk sliders if you …
do i need to buy stop for zipper io orderd?
just want to know if zipper stop comes with zipper HI Jeff, No, but I can send one at your request! Only one is needed per zipper.
Lenzip zippers
Hello I have a marine canvass that has lenzip zippers. I have tried YKK 10 from local supplier and they did not pull the zipper tight. Based …
problem ordering product
when i try to choose pay pal the web site says please enter country and valid zip code when i do this it will not accept rlgibson07@comcast.net 313 491 …
looking for a one sided #10 marine zipper for a underwater utility bag
This is a bag, so one sided zipper is what is required. The existing zipper has lasted several years with occasional lubrication. Hi Jeff, I am not …
---
YKK is a trademark of YKK
Lenzip is a trademark of Lenzip Corp.
RiRi is a trademark of RiRi
EZ-Snap is a trademark of Isosso
Return from Marine Zippers back to the Canvas Boat Cover and Repair Advisor!