Buying a Bimini Top Boot?
Read On For Helpful Advice
Highlights
Storage talk
Measuring you bimini top boot before you buy
Boot fabrics
Zipper choices and repair
Buy a custom bimini top boot
Click to buy bimini top accessories
Storage
Add a proper bimini storage cover to your list of very important accessories. Their purpose is to protect the bimini when it is not being used and extend its life.
It is very wise to store the top when you are not using it. Your fabric takes a severe beating from the sun, wind, and rain when left out and exposed to the elements day after day. To date, there are no lifetime fabrics on the markets, and most shops use thread that will eventually have to be replaced. With this in mind, I suggest you store it covered if possible.
You should never tow your boat with the top up unless you want it to get torn up and possibly damage your boat or cars behind you. It is 100 % necessary to store your bimini while towing.
If you're Bimini didn't come with a storage cover, then you will most likely be looking for a boot on the web. There are a couple of things to keep in mind when shopping.
Measuring a bimini boot
Measure the width of the widest leg (A = ?). Do this several inches below the radius of the frame where the frame straightens and becomes the legs. Be sure to add 3" on either end to accommodate the fullness of the frames that are stacked upon each other.
Next, measure the entire circumference of the frames (B = ?) that are stacked on top of each other. This includes measurements of the fabric itself. You should not have to struggle to zip up so allow a little extra.
Another tip that will help is to know the circumference of the collapsed legs (C=?) sticking out of the bimini top boot. Some of the boots on the market are too narrow here. Boaters have difficulty getting the boot zipped. If you are having one custom made, you can request that it narrows to your specifications around the legs which may help keep wasps out.
---
Click Here to Buy Your Custom Bimini Boot
Fabric
Choose long life fabrics such as Sunbrella® or similar fabrics with a 5 year minimum warranty for your bimini cover. If the warranty isn't listed, Google the name of the fabric along with the fabric's warranty, and you should get the information back on how long the manufacturer warranties the fabric. Pick the fabric that lasts the longest. That way, you will get the biggest bang for the buck.
Zipper size
Try to find a #10 YKK® or a #10 Lenzip® zipper in your new boot. If you can't find a #10, then a # 8 Ykk or Lenzip would be the next best choice. Do not get anything smaller.
What size zipper do you have on your bimini top boot?
See EZ-Xtend Boat Zippers for instructions that will help you figure out the size.
You can always order a boot at a custom shop. Make sure to ask for Sunbrella and a number 10 zipper. You can even get lifetime thread in some shops(not all custom shops offer lifetime thread due to the cost).
Scroll up the page to learn how to measure for a boot.
When your boot zipper begins to give you a trouble and isn't convenient to have it replaced at that moment for whatever reason, then consider using an EZ-Xtend Boat Zippers. Use it as a solution for getting that old, troublesome zipper back together again. It might save the moment and secure your boot until you make preparations for zipper replacement. Consider keeping a couple EZ-Xtend Boat Zippers aboard as essential boating gear. Having one available may save the day in an emergency zipper situation.
FYI
Even #10 marine zippers have a limited lifespan and will someday need to be replaced (Sad but true).
The lifespan of the zipper will vary depending on your climate and the manufacturer. Lenzip Marine zippers do offer a lifetime warranty, and they are the only zipper manufacturer to make that claim. Finally, you will most likely be happier with the fit of a bimini boot made at a custom canvas shop. Then you can request the best materials available.
Using your bimini top boot regularly will save you money in the long run. Be diligent about using it whenever possible.
We Are Proud to Offer You the Best
Custom Made Bimini Top Boot Money Can Buy!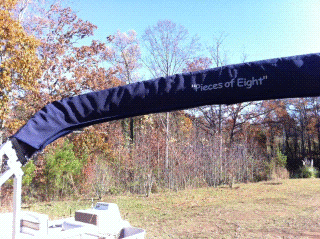 Click Here to Buy Your Custom Bimini Boot

The photos below are boots our customers have measured themselves and ordered.  Thanks for the photos guys!
You will love our custom boots!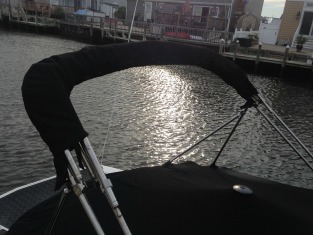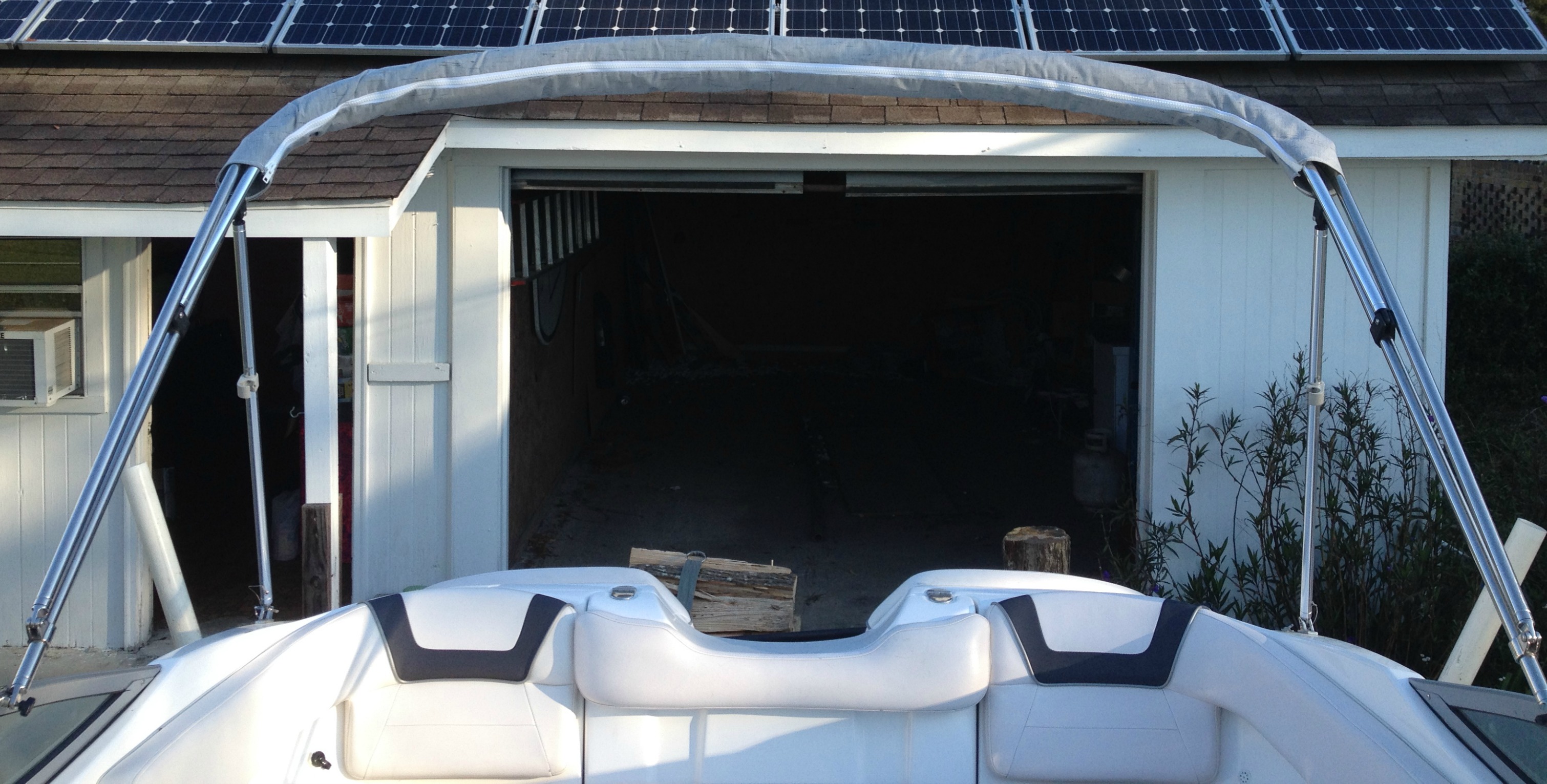 What makes our bimini top boots special?
Choose any color of sunbrella.
Custom measured by you, so your boot will have an accurate fit.
#10 Marine zipper - as good as you can get in the industry -comparable to any custom canvas shop.

Our bimini boots are true custom canvas products.  

Here is how to order!

Measure your boot according to the instructions at the beginning of the page.

Visit our store, fill in the dimensions, pick your color and order your boot.

Click Here to Buy Your Custom Bimini Boot


It's that easy.
---
Testimonial


Success ! Photos of Bimini boots our customers have measured themselves and order and what they have to say

I hope the boat looks good to you, because it does to me.  It is also much more compact than the original Yamaha boot, which was big and bulky on and off. 

Brian

I got the boot and put it on.  The fit is perfect and your workmanship is excellent.  I am very happy with it and so glad I ordered from you. Thanks again, 

Les E. 
Happy Email from one of our customers. 
I just wanted to send a thank you for the bimini boot.  It's perfect.  It is very well made.  Again, thank you. 
Lisa G.
Be Sure to Check Out All of Our EZ-Xtend Boat Zipper Products!!
EZ-Xtend Boat Zippers
EZ-Xtend Boat Track
EZ-Xtend Drip Shields