How can I repair a bent bimini top tube component - hit garage while backing in.
by wayne stoia
(seneca, sc)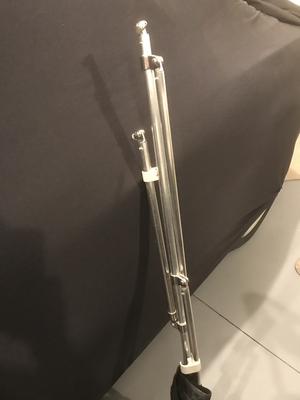 straight side
I have a real nice aluminum tubed bimini top on a 2005 Bryant 219 Bowrider. I had the top up in the collapsed position and hit the garage backing in. Now I have one side with bent pole, other than that all is well. It appears I could either try to bend it back with a tube bender, but I am not too optimistic that will work, or cut out the bad section, and splice a new tube to it and use the same old fittings. I cannot seem to find a way to splice anywhere then saw your Locking Rail Hinge and wanted to know if you thought that might hurt ... I have two good pictures of the good side vs the bad side (Top off the boat in folded away position). I have also written to the boat manufacturer to see what a new top costs, but I doubt they have any stock for a 2005 unless they use a fabricator that has prior patterns/diagrams.

Best Regards,
Wayne Stoia

Click here to read or post comments
Join in and write your own page! It's easy to do. How? Simply click here to return to Bimini Top Parts Question and Answer Discussion.
---
Be Sure to Check Out All of Our EZ-Xtend Boat Zipper Products!!
EZ-Xtend Boat Zippers
EZ-Xtend Boat Track
EZ-Xtend Drip Shields
---
Please come visit me at Cover Girl Marine Canvas & Upholstery to see some of our awesome work!