Where can I find the connector shown
by Marvin
(Chesapeake VA USA)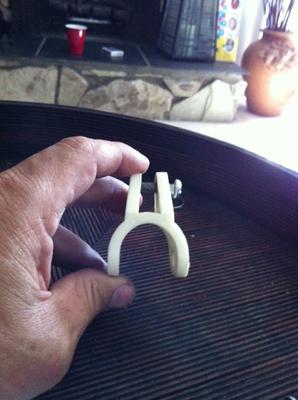 I'm having a difficult time. No one seems to carry a part i need to connect a bimini frame with outside eye ends to the windshield frame on my Bayliner 205. I have a photo of the part I need but cannot find this part. If there is an alternate way to connect, please advise and I will go another directions if necessary. I will attach the pic below.
Click here to read or post comments
Join in and write your own page! It's easy to do. How? Simply click here to return to Bimini Top Parts Question and Answer Discussion.
---
Be Sure to Check Out All of Our EZ-Xtend Boat Zipper Products!!
EZ-Xtend Boat Zippers
EZ-Xtend Boat Track
EZ-Xtend Drip Shields
---
Please come visit me at Cover Girl Marine Canvas & Upholstery to see some of our awesome work!